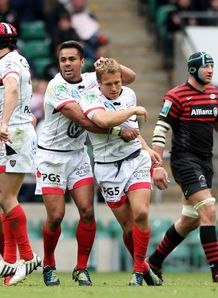 Jonny Wilkinson continued to distance himself from the Lions tour after a stunning performance in Toulon's 24-12 victory over Saracens.
Wilkinson kicked all of his side's points in front of an onlooking Warren Gatland ahead of Tuesday's squad announcement for the tour to Australia.
The former England fly-half also had words of encouragement for Owen Farrell, as the youngster was outshone on the big stage.
"I'm prone to feeling great after a day like today but after a match like last weekend's [against Clermont] I felt as though I'd let the boys down," said Wilkinson.
"I think about tearing up my contract for next year and things like that. It's what goes through my head. I just play and play and no-one can tell you if you're doing great or not. Am I doing enough right now?
"The Lions is difficult for me because it's not at all that I wouldn't consider it - it would be fabulous. It's up there with the most amazing experiences you can get in rugby.
"But I watch guys like Owen Farrell, Toby Flood, Dan Biggar and Jonathan Sexton and it is them who are driving rugby forward. Perhaps they should be the ones driving this tour forward as well."
"When Owen tackled me, he said 'I didn't go through' and I said 'I'm really sorry, I didn't deserve that, it was down to luck'. He played brilliantly and didn't deserve that."
"This is a very special moment. It's quite special to be at Twickenham with the team and their willingness to win.
"It's a privilege to come back here as captain of this team. Today I had the privilege to lead the team and to do that at Twickenham was superb. But I'm beginning to hate the positive things said about me, because it is the team who tackle and play for the 80 minutes.
"Yes I kick a penalty here and there and a drop-goal, but this is a fantastic team. I've sat and watched Heineken Cup finals throughout my career, watching the big guys like Leicester, Wasps and Toulouse contest them and always wondered what it would be like to play in one.
"It's one hell of a moment and one we really need to try and make the most of."