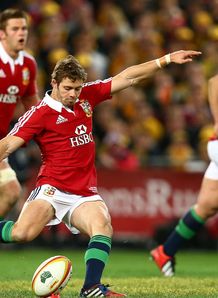 The Kidney Wales Foundation have confirmed that Lions 'Player of the Series' Leigh Halfpenny has donated his prize money to the charity.
Halfpenny was outstanding during the Lions 2-1 series win earlier this month, with the 24-year-old producing a brilliant performance in the final Test in Sydney.
The prize fund, understood to be around £1,800, will now be donated by Halfpenny to his charity, going to the Children's Kidney Unit in the University Hospital of Wales.
"I was honoured to be made a Patron of Kidney Wales in my early international playing days. The Charity does great work and I have visited the Children's Kidney Centre to see firsthand the children waiting for a transplant and on dialysis," said Halfpenny to WalesOnline.
"I was honoured to be made player of the series and received funds to give to my chosen charity - the Kidney Wales Foundation is my chosen charity."
"Leigh is role model and from first meeting him some years ago I never doubted his ability and commitment. He has integrity in all he does and this shines through on the rugby field," said Roy J Thomas of Kidney Wales.
"Everyone who supported the Lions watched in awe as Leigh's inspiring performances in Australia led them to victory. We were proud of him as a Patron as are his family and friends."