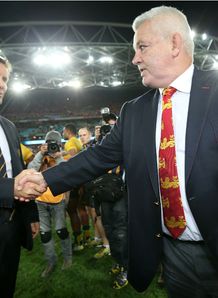 British and Irish Lions head coach Warren Gatland thought his team produced an outstanding performance at the end of a tough week.
Four tries, including three in the second half, sent the Lions on their way to a first Test series victory since 1997.
With plenty of media criticism over the omission of Brian O'Driscoll, Gatland admitted that the last few days had been very difficult, but was delighted with the outcome.
"The last three or four days have been very, very hard. I had to make a tough decision on Thursday in leaving Brian out. You always doubt decisions but you have to make those hard calls sometimes," said Gatland.
"We said 'look, there's going to be a significant amount of fall-out for that and are we prepared to take the flak?'
"I've taken quite a bit of flak and I don't want to gloat or feel vindicated. It was about the boys today.
"It was an outstanding performance. We started well, came under some pressure and bounced back again.
"I said all along that Australia were desperate last week and they brought all their emotion. We felt there was another step up we could bring and we showed that tonight.
"We scored some fantastic tries - the four tries tonight. I thought Alex Corbisiero was man of the match and the guys deserve a lot of credit."