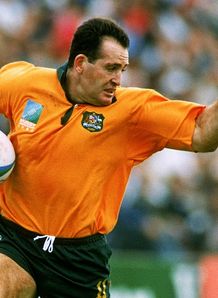 Former Australia wing David Campese has blasted Lions coach Warren Gatland for "panicking" ahead of the third Test.
Gatland dropped veteran centre Brian O'Driscoll for the first time in his career and selected ten Welsh players in his starting XV for the series decider against the Wallabies is Sydney.
Highlighting Australia's recent dominance over Wales, Campese believed the selection would benefit the Wallabies and that the Lions had undergone too much change following the second Test.
"Obviously the changes have occurred because Gatland's panicked a bit," said Campese to the Western Telegraph.
"Last week he said, 'the changes are good, there's a lot more in the team' but (that is) a lot of changes - seven changes going into 80 minutes of rugby. The Wallabies have really got the same side - they've got a bit of momentum.
"If you look at the majority of the players, they are Welsh.
"Obviously they won the Grand Slam (in 2012) so the guys obviously know what they're doing but I'd still like to know who has the X-factor in this team? Who's going to do something different?
"The big difference (in the second Test) was the Aussies tried things and that's how they got the try. The Lions just went out there and said, 'we'll defend'.
"I don't think the Lions made the advantage line once and that's what you have to do in this game.
"Obviously the changes have occurred because Gat-land's panicked a bit.
"If you don't make the advantage line, the defence dominates and that's where I think the Lions will struggle if they haven't got something up their sleeve for this Saturday in the third Test.
"Roberts is in, we don't know how his hammy (hamstring) is, but O'Driscoll is a great player - take him out and who's going to be the leaders in the Lions side? There really isn't anyone anymore."