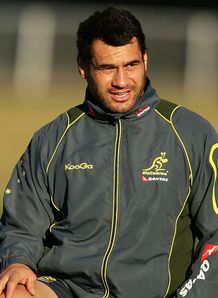 Veteran flanker George Smith welcomed the opportunity for a home farewell he never had following his sensational Wallabies recall.
Coach Robbie Deans went for Smith's big-match experience in his only change to the Wallabies' starting XV for the series decider against the British and Irish Lions in Sydney on Saturday.
32-year-old Smith last played for the Wallabies against Wales in Cardiff in 2009. He was given his chance after a quick recovery from a knee injury which had kept him out of the final Wallaby squad.
Now the survivor of the last Lions series in Australia 12 years ago gets a chance to play before his family and home fans in what is shaping up to be the Wallabies' most important game since the 2003 World Cup Final against England in Sydney.
With 110 appearances, the flanker is Australia's third-most capped player behind his former Brumbies team-mate and Wallabies captain George Gregan, who clocked 139 Tests, and Nathan Sharpe with 116.
"This just caps it off," revealed Smith.
"I retired in 2009 in Wales and played away from home with not too many friends and family there watching. This gives me the opportunity to play in front of them and to play in front of an Australian crowd on my home soil.
"That will be fitting for my career to look back on and say, 'I've finished on a great occasion, a big moment' and yeah, I'm looking forward to it."
Smith ousted Michael Hooper from the open-side flanker spot and said he had no doubts he would be up to the battle, despite spending the last six weeks recovering from a hamstring injury.
"I was hoping to get the nod," he said.
"Robbie gave me an indication that I'd be considered if I did the work on learning the game plan. You're not going to be guaranteed spots within this team, you have to work hard at it."
Smith, who was given his chance after he was released by his Japanese club Suntory Sungoliath to play a Super Rugby season with his old Brumbies team, said he was a much more aware player now than when he last played against the Lions in 2001.
"I've changed enormously," he explained.
"I played on instinct in 2001, I'd only had three or four Test matches under my belt. So I was very green in terms of my game play, in terms of being in the right spot at the right time.
"My rugby awareness is a lot better nowadays, my understanding of rugby players and why we do what we do, why you run these lines, why you tackle a certain way.
"There's a lot of things you pick up by playing. I've played a lot of rugby and if you pick up one thing each time you play, there's a wealth of knowledge there.
"I'm not saying I'm a perfect player or anything like that, I'm just a student of the sport."
Smith said playing against the 2001 Lions was a blur.
"For me it was very much a blur, I was very young, I didn't know the magnitude of the British Lions or the series and I was led extremely well by senior players," he added.
"For me to compare the two series is unfair. I've only been part of this series for two weeks, but have had knowledge of how we do things and for the past six weeks these guys have worked extremely hard. It's a massive game for us."