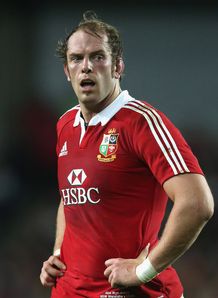 Lions skipper Alun Wyn Jones insists he has no ill feelings towards his opposite number, James Horwill, after the Australian was cleared of stamping on him at a second hearing.
Horwill was cited for bringing his boot onto the face of the Welshman, an act which saw the Lions man require three stitches to his face, and despite being found not guilty at his first hearing, was forced to defend himself once more after the IRB appealed the decision.
The end result is that Horwill is free to play in the third and final Test and Wyn Jones holds no grudges against his fellow second rower.
"It's become a bit of a sideshow," said Jones.
"I should imagine there will be some red faces somewhere (at the IRB) for appealing the initial decision and coming up with the same decision, but that's not for me to comment on.
"I just get on with it and I am happy to shake his hand after the game as well."