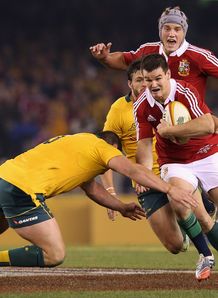 British and Irish Lions fly-half Jonathan Sexton admitted that the dramatic loss to Australia in the second Test was devastating.
The tourists held a 15-9 lead heading into the final ten minutes in Melbourne, only for Adam Ashley-Cooper's converted try to hand Australia the momentum heading into the third and final Test next week in Sydney.
Sexton focused on the Lions', describing it as below the standard they had set, rather than dwelling on the late Australian score after the match.
"We are all pretty devastated to be honest," said Sexton.
"We are all bitterly disappointed because we know just how close we came.
"It's a tough one to take, but if we are honest with ourselves then we have to say we didn't play well enough.
"We didn't control the set-piece well enough and we all made mistakes. We didn't deserve to win, it's as simple as that.
"It was a very tough kick, and you have to also remember how tired he must have been right at the death.
"It's small margins, but like I say, you can't look at one man. There was plenty wrong with our performance as a team.
"We were 1-0 up and we should have gone 2-0 up, and we didn't. At times it felt we were wishing the game to finish, rather than going out and going after it. That's how I felt, anyway."