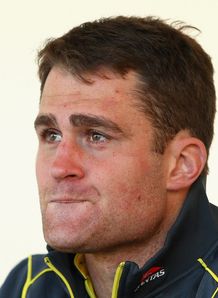 Related links
Also see
Australian skipper James Horwill insists that it was not his intent to find the face of Alun Wyn Jones with his boot.
The second rower was cited for the incident during the first Test between Australia and the British and Irish Lions last week but was cleared of any wrongdoing. However, on Thursday the International Rugby Board announced that they would appeal the decision, with a new hearing set for after Saturday's second Test.
The IRB are well within their rights to challenge the decision, but such a move is rare. Despite this, Horwill does not expect his second hearing to be compromised.
"The original hearing took four hours and there were nine camera angles to look at. I had a fair hearing the first time and I expect it to be no different next time," he said.
"It was a complete accident, which unfortunately happens in rugby. There was no intent and no malice in anything. I had no idea anything had happened until I was cited."