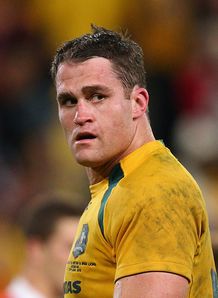 Related links
Also see
The International Rugby Board have confirmed that they will appeal the decision not to sanction Australian captain James Horwill for stamping.
Horwill was cited under Law 10.4 b of the IRB's disciplinary rules, for "stamping" or "trampling" on an opponent after appearing to make contact with the face of Alun Wyn Jones during the first Test between the Wallabies and the Lions in Brisbane.
However, Judicial Officer Nigel Hampton QC found the lock not guilty of stamping.
"I found that I could not reject as being implausible or improbable Horwill's explanation that as he was driving forward with his right leg raised he was spun off balance through the impact of Lions players entering the ruck from the opposite side," Hampton said in his judgement.
"In an endeavour to regain his balance Horwill brought his right leg to the ground unknowing that Alun Wyn Jones' head was in that area due to having his sight impeded by the presence of Michael Hooper and Tom Croft who were beneath him and over the top of Alun Wyn Jones. Due to these reasons I cannot uphold the citing."
However, the IRB have informed the Australian Rugby Union that they will be appealing the decision.
"As the 2013 British and Irish Lions Tour falls within the scope of the IRB merit-based appointment scheme approved by the IRB Council, under Regulation 17.22.2 the IRB has (since the May 2012 IRB Council decision) the right to appeal any decision arising from matches under the scheme," the IRB said in a statement.
"Furthermore, given its duty to preserve player welfare at all levels of the Game, the IRB is compelled to further examine potential acts of foul play which either potentially or in reality impact on the preservation of player welfare.
"It is important for the IRB to ensure amongst all stakeholders in the Game that there is full confidence that priority is given to player welfare and the values of the Game.
"The IRB received the full written decision on Monday, June 24 and following a detailed review of the evidence and the written decision (as it does for all Tests under its jurisdiction) has notified the ARU within the 72 permissible hours that it will appeal the case. "
The case will be held after Saturday's second Test and Horwill is free to play pending the outcome of the appeal.