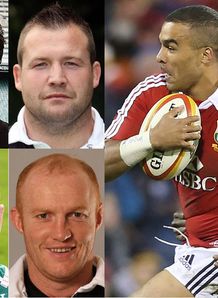 In the space of seven days, two contrasting displays from the British and Irish Lions have left the tourists with selection and tactical dilemmas ahead of Saturday's first Test.
Planet Rugby caught up with our panel of Expert Witnesses to run the rule over form, organisation and gameplan as the 2013 Australian adventure changes its focus to international engagement.
"Looking back over the last seven days, we saw a cohesive and at times, an intuitive rugby team put in a titanic performance against the Waratahs," explained Martin Corry, a veteran of seven Lions Test matches.
"However, Gatland and his backroom staff will be annoyed that they let chances slip against a well-organised Brumbies team.
"Jake White is a master of getting the basics right. Scrum, line-out, loose play and the kicking game are his strengths and that was entirely evident on Tuesday night.
"If you include line-outs and scrums lost, we conceded effectively 29 turnovers against the Brumbies, which is criminal. We also missed four shots at goal, yet lost by only two points.
"Factor in that the four men in the three-quarter line had precisely 14 days BETWEEN them on tour, with Billy Twelvetrees having eight of those (!), then you realise that whilst the result will be disappointing, things are far from desperate. That was a scratch Lions backline, and they can be excused for that reason, but of far greater concern were the forwards, who have been together on this tour far longer than the back division, and were outclassed in virtually every area."
Mark 'Ronnie' Regan shares Corry's views, and highlights that the lack of forward dominance that cost the Lions dearly.
"We came second in all aspects of forward play," observed the former England hooker.
"We were pulverized at the breakdown, the scrum was a clear second until the bench game on, and the line-out, was, bluntly quite farcical, until Geoff Parling restored some semblance of order.
"The line-out was a real disappointment. It is the sum of many moving parts, and relies upon clear strategy and team work. Every line-out until the 60th minute was the same; a 3/2/2 pod system with two props and the eight at the front. Australia are a very streetwise and intelligent side, if not as physically powerful as other teams. Your line-out needs options and variance to succeed against them.
"Geoff Parling, a lineout 'geek' of the highest order, did a mammoth 20 minutes at the end, calling and changing the options, and with Richard Hibbard producing more consistent throwing that Rory Best, we looked a lot better in the final quarter.
"In the loose, we had confusion with regards to the role of the 'second man' into the breakdown. Clear or secure? The Brumbies were flooding the rucks with dynamic drives and someone needed to take on the clearing out role to free up the ball. No-one did until Dan Lydiate entered the fray.
"We simply didn't win the collision area, and Justin Tipuric in particular, struggled to enforce.
Geordan Murphy, Ireland's talismanic full-back, is a skilled organiser of backlines and feels that the hinge at nine and ten suffered significantly due to the paucity of quick ball.
"Look at the two performances from Benny Youngs, which really are a microcosm of both games," he said.
"Ben relies on fast, front foot ball. When he came on against the Waratahs, he had that, and his passing was slick, threatening and aggressive. He had the space to play right on the gain line due to the efforts of the forwards. Last night he was unable to up the tempo at any point.
"Factor in too, that Stuart Hogg, a man with two senior games at fly-half, was so deep into the 'pocket' that he was unable to get clearance distance on his kicking, or bring into the game the power runners in the twelve channel that is an imperative in this Lions side, then you realise why we failed to impress.
"When you're being murdered at the breakdown, it's difficult to get that space back, and half-backs will habitually seek the safety of a deep position where they can at least have time on the ball.
"But let's not denude the Brumbies. Jessie Mogg played a wonderfully intelligent game at 15. He read that the Lions had two diminutive wingers, both under 5' 9", and used his powerful boot to kick over them and make them turn to field the ball, something which eats precious defensive times.
"It was classic Jake White, to be honest. Each Australian side before this game had come out with the attitude of 'giving it a crack'. But White's side played this as an attritional Test match, and benefitted hugely.
On the flip side, the Lions' display against the Waratahs had our experts purring with delight. Corry, who has spoken each week about the need for players to take their performances to the next level, and lay down, in his words 'career defining performances' saw a glimmer of light.
"Test matches define the tour, but even versus NSW the likes of Vunipolo and Leigh halfpenny were immense. They showed leadership, power, courage - all the hallmarks of outstanding Lions. If they can bring that kind of form to the Test arena, then we are approaching that defining performance level I have mentioned. We expect world class performances from the likes of O'Connell and O'Driscoll, but the form of some of the lesser sung players is very encouraging.
"Jonathan Davies too, showed a variety and intelligence that will allow him to play at 12, considering the jnjury issues we have in that area.
Martyn Williams, a former team-mate of Davies, also believes that the Lions moved up a gear in Sydney.
"Jonathan Davies, Tom Croft and Johnny Sexton also put down their markers, and Alun Wyn-Jones was simply astonishing in every aspect," he said.
"Croft showed the skills that elevate him above others. He's a big match player and his pace is ideally suited to the conditions in Australia.
"Davies in particular showed a variety of game that was very timely, considering the injury clouds surrounding Jamie Roberts and Manu Tuilagi. We're very well served at centre, and any combination of those four will serve us well, but Jon really put his hand up.
"Alun Wyn's game went up several gears. His dominance and groundwork in the loose was outstanding.
"Going into the Tests, the pleasing thing is we have a clearly defined plan, and a definite shape to our game. We will look to be very physical, we need to dominate the scrum and lineout and our kicking will be key; using the big men such as Cuthbert, North (if fit) Croft and the centres, we have the ability to make our kicking game effective through great chasing, a hallmark of all of Gatland's teams.
"We will play with the mantra 'our forwards will outwork yours'. The notion of outplaying Australia in the backs is the hard way to win; organisation power and discipline is the easy route to success," observed the former Welsh flank.
With the Test side named in only a few hours, selection appears to be reasonably straight forward, and the declaration of North's fitness will please the management. Corry is quick to point out the importance of the forgotten men of a successful Lions tour - the medical team.
"People overlook the importance of these guys. James Robson and Phil Pask are just two of the medics, arguably the hardest working guys within that team," he added.
"Turning around the injury list is absolutely paramount to the efforts of the side. I reckon I owe Phil at least 15 England caps. I well remember dislocating my elbow in 2006 and being told be a specialist it would take 14 weeks before I'd play again. I literally followed Pasky in my car around for four weeks, wherever he went, getting treatment virtually 24/7. Instead of writing off the entire Six Nations campaign, I missed just the opening Test.
"Dr James Robson is, don't forget, the most experienced Lion out there! He rivals Willie John-McBride and Mike Gibson with five Lions career tours, and that's a hell of an achievement," noted Corry.
Back to selection dilemmas, and Regan, a man who has spent many years at the dark coalface of international scrums, considers Australia may have a weakness in that area.
"They have an outstanding loosehead and hooker, but at tighthead their options are more limited. I wonder if Gatland will opt for the best scrummager to start? If so, that would be Alex Corbisiero.
"Many people have commented that the Lions' strength is on the bench, and I see no reason why we cannot adopt a horses for courses approach, pick the best scrummaging unit to start, then bring on the driving and loose play of Cole and Vunipolo against tiring legs. It makes perfect sense to me, and Corbisiero is an outstanding technical scrummager, as he proved on Tuesday night. I know Adam Jones, a great judge of a fellow prop, considers him to be the hardest opponent he's face in recent years, so expect Alex to be a bolter to start.
Murphy considers we may see a surprise selection in the backline, with his fellow Irishman Simon Zebo presenting the selectors with a healthy dilemma.
"With George North now declared fit, that will be a huge fillip to the team. But it now leaves Alex Cuthbert, Sean Maitland and Simon Zebo fighting over one wing place. Zebo has been the man searching for work, and has embraced the Lions work ethic, and I believe he's in with more than a shout! He seeks space, he looks for the ball, something that Warren Gatland likes to see. He's a left field selection, but one that I think may benefit the Lions."
With the Test four days away, speculation is rife regarding potential team selection. With loaded revolvers placed firmly at the head of our Experts, we forced them to remove their nationalistic allegiances and form an almost-collective (!) view on the team for the first Test.
In selecting the team, we considered line-out and scrummage dominance to be critical, with a backline that will work for each other, and feature power runners entering the 12 and 13 channel. The back-row, an area of riches for the Lions, needed a balance of pace, graft and power, with a minimum of two primary line-out operators to provide options.
One of the keys that each of our panel underlined is the importance of the Lions bench and that is reflected in our selection:
Planet Rugby EW Test Team
15 Leigh Halfpenny
14 George North
13 Brian O'Driscoll
12 Jonathan Davies
11 Simon Zebo
10 Jonathan Sexton
9 Mike Phillips
8 Jamie Heaslip
7 Sam Warburton (capt)
6 Tom Croft
5 Paul O'Connell
4 Alun Wyn-Jones
3 Adam Jones
2 Tom Youngs
1 Alex Corbisiero
Replacements: 16 Richard Hibbard, 17 Mako Vunipolo, 18 Dan Cole, 19 Geoff Parling, 20 Sean O'Brien, 21 Ben Youngs, 22 Owen Farrell, 23 Manu Tuilagi.
So there we have it. Next week's Expert Witness will undoubtedly be a heated debate, as the 23 chosen players fight for glory or dismay. Join Planet Rugby and our Experts as the 2013 British and Irish Lions Tour moves into the harsh reality of the Test arena.
Corry, Williams, Murphy and Regan spoke to James While