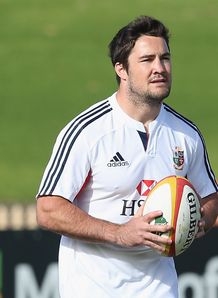 England centre Brad Barritt is confident that travel weariness will not play a role when he makes his British and Irish Lions debut against the Brumbies in Canberra on Tuesday.
Barritt flew to Sydney from a holiday in North America and starts alongside centre partner Billy Twelvetrees and wing Christian Wade - who both left England's tour to Argentina - as Lions newbies.
Former Wales speedster Shane Williams joins the trio as tour newbies after he arrived from Japan where he now plays for Mitsubishi Dynaboars.
Barritt, Wade and Williams trained with the Lions for the first time on Monday but the Saracens midfielder is confident they will give a good account of themselves.
"For all three of us, when there is something like this your body can just run on adrenalin," said Barritt.
"The sheer weight of what this game means to each and all of us is enough to give you motivation for a decade.
"The mind is stronger than the body, and if you want to be there and you want to go out there and do a little bit for the side and not let the team down, you can achieve that.
"When Andy Farrell (Lions assistant coach) phoned me in the States, he did indicate I would be starting (on Tuesday), so I just needed to get my head around that and be prepared.
"On the flight, I knew it was about getting my body-clock up to speed."
Barritt has been out of action since he sustained an ankle injury during Saracens' Heineken Cup semi-final loss against Toulon almost teo months ago.
He does not think it will affect him against the Brumbies as he has been active during his stint on the sidelines.
"I always knew I needed to keep fit just on the off-chance that something did happen," he addded.
"Credit to the guys at Saracens, they stayed with me all the way up to June 5 and helped me do my rugby rehabilitation and got everything right.
"It has only been the last two weeks that I've been on vacation, and I've tried to do a few little things when I could."
The 26-year-old is also determined to help the Lions preserve their unbeaten tour record.
"It is a huge motivation for us to keep that winning momentum going, and if there is a good victory tomorrow it further adds to the confidence of the whole squad," said Barritt.
"The guys involved tomorrow have just got to focus on that game and think of nothing else.
"I think as rugby players you live in a seven-day world. What happens last week is irrelevant to this week, and what happens next week is all dependent on this week."