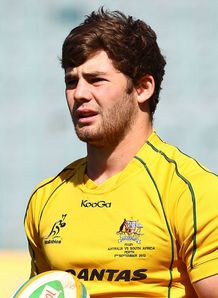 Related links
Also see
Australian flanker Liam Gill insists the Wallabies are prepared for a frenetic start to the Test series against the Lions in Brisbane.
The 21-year old Gill is competing for the openside role with Michael Hooper in the absence of David Pocock and George Smith.
Whilst the Lions have already played six warm-up matches on tour, the Wallabies are coming in undercooked as a side despite being in the middle of the Super Rugby season.
A fast start for the Lions in 2001 saw them clinch the first Test 29-13, with Gill more than aware of a possible repeat in Brisbane this weekend.
"We're very wary of how they will start and how they've started each series for the preceding 12 years," said Gill.
"They come out at a rate of knots, so we understand that we have to front up and be there from the first 10 minutes until the last 10 minutes. I believe that's where the games will be won and lost.
"We have to combat the intensity they bring. We've tried to understand how they will give it to us and we know they will give it everything right from the start."
"It's a Godsend to have a few weeks off. It's been nice, but it was hard watching each of our franchises take on the Lions and sitting back and waiting for our turn," added Gill.
"But it's made it exciting and has put us in a good place to take them on. We're understanding more and more about the pressure of this event.
"We're starting to get excited. We've had a taste of what's to come from watching the franchises play, but I don't think it will compare to the Test series."