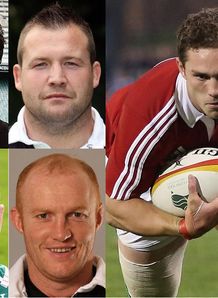 Played four, won four, is the warming statistical reality of the British and Irish Lions' 2013 sojourn to Australia.
On the face of it, the results are outstanding, but in scrutiny, three of those matches were little more than training runs, with only the Reds, in a display of pacey, deconstructed rugby, showing anything like the standard needed to extend this classy Lions outfit.
However, in the next few weeks, the temperature rises. With the Waratahs next on the tour agenda, followed by the Brumbies, for many years two sides that have been the standard bearers of Australian Rugby Union, the class of 2013 are certain to be extended in their run-up to the first Test a week on Saturday.
Warren Gatland has already described the Waratahs game as the 'Fourth Test' and is sure to put out a strong side, as the match is billed as a Test trial.
What are the challenges ahead? What can we expect of both Australia and the Lions? Planet Rugby joins our Expert Witnesses to discuss form, fitness, selection and tactics.
"This weekend will be the first sight of Gatland's thoughts for his likely Test side," explained former British and Irish Lions hooker, Mark 'Ronnie' Regan.
"The Reds game was a challenge, that is for sure, but Queensland Coach Ewen McKenzie chose to play a high risk, unstructured game. Whilst it was great to watch, and also a good test of the Lions' fitness, I believe Wallaby Coach Robbie Deans will favour a more conservative approach, especially in the First Test.
"I don't believe that Deans will have detected many weaknesses in the defensive patterns from that Reds showing. But in the next week, we are playing the Waratahs, followed by the Brumbies and then the first Test, and both he and we will learn a lot more about make-up and tactics in that short period. You could argue that they're three back-to-back Tests!," he explained.
Welsh flanker Martyn Williams, a veteran of three Lions tours, agrees.
"Former Lions Coach Sir Ian McGeechan always used to tell the team that Week Four of a Lions tour is the key week. It's one week before the Tests and the players will be edgy and nervous," he said.
"This week defines what has gone and informs what will be. It is absolutely crucial for all the players to stick together and, above all place the collective at the heart of everyone's efforts."
With the Test side certain to be announced within hours of next Tuesday's Brumbies fixture, Williams is also quick to point out that attitude and character is absolutely imperative:
"As much as senior players and management will be there to help others, this is when self-sufficiency and professionalism shines through," he added.
"There will be mixed emotions when the side is announced; the 15 starting will be overjoyed; the eight players on 'the woodwork' (replacements) will be frustrated in one sense, but happy to be involved in another, wondering when and if they'll be able to contribute, and those not selected naturally will be pretty down. The 14 not selected now must be the ones to congratulate their team-mates, and then do everything they can to prepare those guys for the challenge ahead. Bear in mind too, that any of the 23 not starting could be in the Test side the following week. It's noted by the management when players 'Go Off Tour' as is the common expression, and above all, egos must be left at home for the benefit of the wider tour objective.
"Geech always cited Jason Leonard as the man that embodied the Lions spirit best of all. When Jase was left out of the Test line-up in 1997, he spent the next four days selflessly working with Wally and Tom (Paul Wallace and Tom Smith) to make sure that their scrummaging was at its sharpest to face the challenge of the massive Springbok props, Os du Randt and Adrian Garvey. He worked on scrum height, how to take the big Boks low and out of their comfort zone, and he worked on the speed of hit, all critical technical issues. It's guys like Jason that simply MAKE a tour work."
Geordan Murphy, capped 72 times for Ireland added: "The tour is always judged as a collective; individual efforts contribute significantly to that effort, but the guys out there know that the final verdict will be based upon how they perform as a team; a team in the harshest environs of a Southern Hemisphere tour. We are fortunate to have players out there with huge international experience; the likes of Brian O'Driscoll, Adam Jones, Paul O'Connell and Alun Wyn-Jones. These are the big personalities that can help the younger players along, whether selected for the Test side or not, and you can rest assured that those senior players will do everything in their power to ensure success and happiness of the tour party."
Back to the performances then. As noted by Regan, the Reds provided a tough test for the tourists. What did we really learn from that game?
"The Lions showed a few chinks in defence, but generally we were very strong," explained Ronnie.
"The scrums have all gone well, but in terms of the line-out, there's still work to do. The hooking berth itself is also wide open; nobody has really stuck their hand up and said pick me, and really it's down to the choice of the scrummaging of Richard Hibbard or the mobility and running of Tom Youngs.
"The one try conceded was very opportunistic, and really should never have happened
Martyn Williams considers Australia's threat is always going to be stiffer then many consider.
"We hear a lot about perceived weaknesses of the Aussie tight game, yet people conveniently forget they play the All Blacks and the Springboks several times a year and those teams never have a bad set-piece!" he said.
"Australia are past masters of winning on 40 percent possession. They are hugely intelligent and skillful in the backs. Resourceful would be a great descriptor - they are incredibly effective at beating sides through handling, changing the point of attack and though invention. They will move us around and want to keep the ball in play and away from the set-piece.
"They will do everything in their power not to get embroiled in an arm wrestle. They will want to play quick, flowing rugby. They want to let the game 'breathe'."
Martin Corry's view is that the side are of high quality, but it's time for players to go beyond that and onto the next level.
"I still believe that whilst we have a core of the best players in the British Isles, we need a few of those players to kick on; to produce a performance or a series of performances that elevates the Lions to the next level. If you look at how Scott Gibbs and Tim Rodber catalysed the team in 1997, or O'Driscoll and Hill in 2001, then that is the sort of performance we need. Something career defining, and something way past the ordinary," he challenged.
"I am also concerned that whilst we have the best backline available in many respects, there is a paucity of playmakers outside the number ten jersey. All of the centres play a similar game; big powerful gainline runners, which is a hallmark of Gatland's tactical thinking for some time. If we don't have the playmakers available, and I for one would have loved to see Billy Twelvetrees in that role on the tour, then we must use the pace of George North, Tommy Bowe and the like, coming off their wings and making telling runs off the shoulders of the centres. It's a shame Bowe will not make the first Test, but I'm sure Maitland or whoever is selected, will do a great job.
"With the next three games a big step up in standard, we'll see just how these tactics gel, and if they'll be good enough to take a test series," explained the big Tigers' forward.
Regan also considers that it's time for some players to throw done their marker.
"In the front-row, only Adam Jones is sure to start," commented Ronnie."We've lost two world-class looseheads in Cian Healy and Gethin Jenkins, and although Corbisiero is highly rated, I am disappointed that Gatland didn't look at the massive physical presence of Andrew Sheridan. Just the mere mention of his name in Australia can make a grown Aussie cry!" exclaimed the hooker.
"However, I know Adam Jones is a big fan of Corbs and considers him one of his tougher opponents. Factor in the tremendous form of the stand out 'find' of the tour, Mako Vunipola, and we can see that we're well served on the loosehead. I guess it's a choice between those two, and simply comes down to who starts and who benches."
With Sam Warburton starting only one game so far, the Cardiff Blue has already come under pressure from areas of the media, and many are questioning whether or not he's one of the best two flankers available for the Test series. He starts against the Waratahs and Martyn Williams, the man that gave way to Warburton in the Welsh side, has no fears about his former team-mate's form or fitness.
"Sam, although being challenged in a very healthy manner, will start the first Test, of that there is no question," said Williams.
"He's been short of match time, and he'll relish the time spent 'in the middle' to get back to where he was a short time ago.
"Warren will be looking as much at combinations in the next week or so. Already Alun Wyn-Jones and Paul O'Connell look like a formidable pairing in the engine room; North, Bowe and Halfpenny have worked very well together and have a lovely balance, and my old mate Mikey Phillips has combined well at half-back with Johnny Sexton.
"Other areas are still less defined, but this time next week all the hyperbole will have finished and we'll know the lucky 15 chosen to represent the Home Unions.
"I, for one, can't wait!"
And neither can we. That is it for this week's Expert Witness. We will welcome our panel back next week for an in-depth preview of the First Test as the tour comes to simmering point.
We will see you then.
Corry, Williams, Murphy and Regan spoke to James While