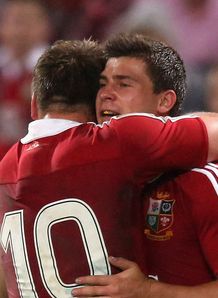 British and Irish Lions boss Warren Gatland has declared that he is happy with the opening phase of his side's tour to Australia.
The Lions preserved their 100% record with a thriling 22-12 win over the Reds in Perth on Saturday and face a Combined Country XV in their next match in Newcastle on Tuesday.
And despite losing three players to injury - wing Tommy Bowe and props Cian Healy and Gethin Jenkins - ahead of the first Test on June 22, Gatland was pleased with the Lions' progress.
"Absolutely. I'm very, very happy," he said on Sunday.
"Yesterday's game was exactly what we wanted. We would like a couple more lead-in games, and for the first two games to be a bit tougher than they were, but that's what happens on tour - you are not dealing with tough teams all the time - so we will have to see what Tuesday is like.
"The Waratahs (next Saturday's oponents) are missing a lot of players as well, so how tough are they going to be? The Brumbies are different - they will be tough before that first Test.''
Gatland praised the performance of England scrum-half Ben Youngs, who delivered a superb all-round display in the win over the Reds.
"There is a subtlety Ben brings to the game," Gatland said.
"In the Wales-England Six Nations game (in March) he was the player who caused Wales the most problems around the fringes. He played really well that day.
"He is confident in his own ability, takes the line on and offers a different threat to the other two (Mike Phillips and Conor Murray).
"It's nice to have two or three players in certain position who are putting their hands up.
"We've given everyone a guarantee that they would get a start in the first three games, and we put a new side out last night against a team who - even though they were missing some key players - had had 16 rounds of Super Rugby together.
"For us to put a team together at short notice, who hadn't played together before, with new combinations, to come away and win is a real credit to them.
"We knew going into the game, with the amount of travel we've had and what we've been doing on the field, that physically our players weren't as fresh and were a bit flat.
"So for us to come under that pressure without being so fresh in the legs, I was pleased how we came out of it.
"We've been training very hard, and between now and the first Test it will be a case of shortening up and shortening up so that players are fresh.''