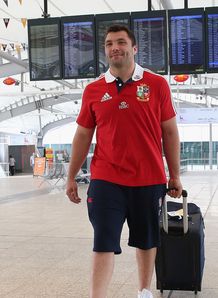 England prop Alex Corbisiero is delighted to be over his injury struggles after linking up with the British and Irish Lions.
The London Irish prop played only seven matches all season, five for his club and two for England, amidst a frustrating time on the sidelines.
Having returned for England against the CONSUR XV in Montevideo last weekend, Corbisiero finally caught up with the Lions in Brisbane after five flights and comes straight into the side for Tuesday having travelled 8,000 miles.
"There is a lot of rugby between now and the first Test," said Corbisiero.
"I am looking forward to putting my hand up, and if it comes it comes, if it doesn't it doesn't, but I am going to try to make the most of the opportunity I have been given.
"I feel very good. It has been a frustrating year with injury, but it is one of those things I can't do anything about.
"You control the controllables, and that was being patient and making sure I got my knee right and got back to full fitness. I feel fresh and ready and match-fit.
"I have had no reaction with the knee. Obviously, you are not going to do anything stupid, you just keep an eye on the training load and make sure you don't do too much on it in the week, but at the moment it has been absolutely fine.
"I have no issues, and I am very grateful I took the time and was patient with it to make sure it was right.
"Being injured is never fun, but friends and family help pull you through and stay positive. I've done everything I can to get right, and I feel very grateful to be here and have such an opportunity to do something as prestigious as the Lions."