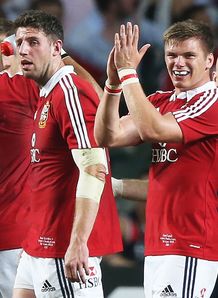 Owen Farrell insists his bust-up with club team-mate Schalk Brits during the Lions' clash with the Barbarians is behind them.
Brits was yellow-carded for punching his Saracens team-mate after the fly-half was holding onto him at a ruck. He has subsequently banned for three matches. The South African reportedly asked Farrell three times to let go of him before forcing the issue.
Farrell reveals that the pair have moved on from the matter.
"I shook Schalk's hand after the game, and he apologised when he came back on to the field," said Farrell.
"Things happen in rugby. There's no dramas there. It is a reminder of how vital it is to keep cool and not respond to provocation.
"When someone reacts to you, you try not to take a backward step, not just in this occasion but in every occasion. I just grabbed him. There was nothing nasty in it."