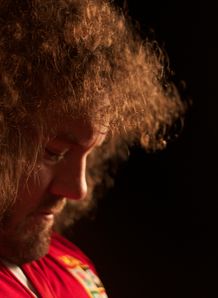 Related links
Also see
British and Irish Lions tighthead prop Adam Jones has admitted he'll be out of his comfort zone when he runs out to face the Barbarians in Hong Kong.
Jones, who starts in the opener, said that not only is the heat and humidity a whole new experience, but he also faces the unusual prospect of packing down against his good friend and fellow Welsh player Paul James, who will be his opposite number in the Baa-Baas front-row on Saturday.
The Lions trained in 30C-plus (86F) conditions for the second day running on Thursday, and Jones said the experience was not a comfortable one.
Asked if he ever encountered such conditions before, training or playing, Jones said, "not by a long way," before admitting he had even felt physically sick after Wednesday's first session.
"As weird as it sounds, when you're training and running it wasn't too bad. But when you stopped and you had to get your breath back, well, it just wasn't there really - just gagging for air. But everyone's feeling the same so you just get on with it.
"Look I'm sweating now in air-conditioning," the Osprey added to reporters at the team hotel.
"I'm quite a sweaty bloke anyway, so it's going to affect me. But nothing you do in training is going to compare with the match."
Jones said the most important thing was that the Lions got off to a good start to the tour.
"To start the first tour match is a massive thing, so I'm looking forward to it," he said. "The Barbarians-Lions, there's only been one before in 1977. It's going to be a huge game. I'm not saying it's as big as a Lions Test but it's pretty special."
And of the odd prospect of a fierce front-row battle with his friend and Welshman James?
"I think I've only packed down against him once, and that was when we were 15 and schoolboys. So that'll be a bit different," he said.
Jones likened the steamy encounter in Hong Kong to the first Lions game four years ago in South Africa, when he also played under physically testing conditions, on that occasion in the high altitude of Rustenberg.
Asked what was more difficult to cope with, heat and humidity or altitude, he replied with a smile: "Ask me again after the match."