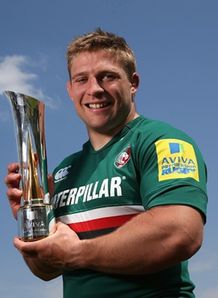 Related links
Also see
Heyneke Meyer admits he doubted whether his plan to move Tom Youngs from centre to hooker would pay dividends.
The South African was briefly in charge of Leicester in 2008 when he convinced Youngs to switch from the midfield to hooker, two years after making his Tigers debut.
The decision has certainly paid dividends for Youngs who is currently enjoying his first Lions tour after a dramatic rise to prominence that saw him named this season's Aviva Premiership Player of the Year.
"At first I was worried that I might have wrecked his career because others didn't necessarily believe in his move to hooker, but Tom never stopped believing and kept on working hard to succeed," Meyer told Reuters.
"Although I thought he would be a good centre, I knew he could be a world class hooker, as he has all the attributes to succeed in that position.
"He is mentally tough, a strong ball carrier, has lots of speed, a great feel for the game and superb defence.
"I knew he could make the conversion, because he had the hunger to play at highest level, was willing to listen and to work very hard to achieve his dream."
However, while Meyer - and later Richard Cockerill - may have played huge roles in Youngs' progress, the Springbok boss insists that all the credit should go to the 26-year-old for his determination to succeed.
"I don't want to take credit for this, because he was the one who believed in the move and, along with others, made a success of it," he said.
"However, when he was selected to play for England, I got a letter from his parents thanking me for what I've done for him, which was a very special moment in my career as I've coached thousands of players and to get a thank you letter like that one, it stood out.
"I've moved quite a few players in my career, but what impressed me most about Tom was that he immediately said 'yes' when we discussed his move from centre to hooker, because he wanted to play Test rugby.
"I was ecstatic when I heard he was selected for the British and Irish Lions to tour Australia and I think it is just reward for a player that never looked back when he decided to make the change in position.
"I think he can achieve a lot more in his career, as he has all the attributes needed to succeed at the top."