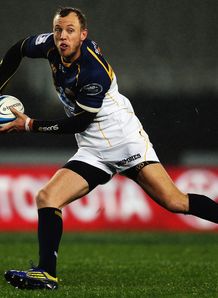 Brumbies full-back Jesse Mogg is hopeful of grabbing one of the remaining six places in the Australian squad to face the Lions.
The 23-year-old, who was included in a provisional Wallabies camp in April, missed out on selection for coach Robbie Deans' 25-man squad that was named earlier in the month.
Deans revealed that there were six spots still up for grabs, and Mogg is determined to ensure one of those belongs to him.
"All I can do is go out there and play well for the Brumbies and whatever comes from that, comes," he told AAP. "I think it's more just consistency."But as long as I'm kicking well and running well and defensively in position, I'll be putting my best foot forward.
"It's just the physicality of Test rugby [Deans] is concerned about. I showed last year at some points in the competition I wasn't physically capable, but this year I've grown. It's something I'll always have to keep working on and hopefully get there sooner rather than later."
Despite Deans' desire for a more physically imposing full-back - Israel Folau who was selected weighs in at 102kgs - Mogg does not believe that extra bulk is necessarily the best thing for him.
I'm pretty happy around 90 kilos. I guess I can put a little bit more on, but ... speed is one of my greatest assets," he explained. "I don't want to jeopardise my speed for a few extra kilos that I might not have to have."