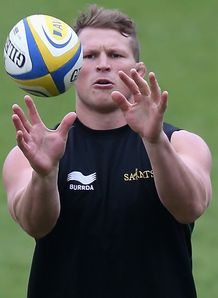 Related links
Also see
Northampton and Lions hooker Dylan Hartley sees Saturday's Aviva Premiership Final as a chance to boost his Lions prospects.
Hartley, one of three hookers in the Lions squad alongside Wales' Richard Hibbard and England's Tom Youngs, was a surprise selection for many ahead of Ireland's Rory Best.
After shocking many with their semi-final victory over Saracens at Allianz Park earlier this month, Hartley is adamant that Northampton's underdog status can help them again in the Aviva Premiership Final against Leicester Tigers.
Furthermore, Hartley believes that putting his hand up this weekend may elevate his chances for Test selection in Australia.
"I think a few people think I am in the Lions squad to cover the third hooker place (behind Youngs and Richard Hibbard)," Hartley said.
"I see this weekend as a chance to push myself forward. I am going there to win a trophy for the club but it is an opportunity to play well and put my hand up.
"With rugby you understand that injuries happen and selections don't always go your way but you have to bide your time.
"Like Arnie said 'I'll be back'. I am not done. Everyone has their time in the sun and I am here for the long game."
Northampton come into the Final on the back of a miserable record in the knockout stages of the Premiership, having also suffered an agonising Heineken Cup Final defeat against Leinster in 2011.
"I have had some good times here but the disappointment of losing four consecutive semi-finals and the Heineken Cup final, and losing them in the fashion we have, is heartbreaking," added Hartley.
"You start pre-season with these lads, you all become best friends and you work together. You lose away at Gloucester together and you have the horrible bus ride home.
"But then you win the next week. You go through thick and thin with these lads. The prospect of going to Twickenham with your mates, playing in front of 85,000 and winning a trophy at the end is huge.
"I just don't want this weekend to be another one of those heartbreak games.
"No-one was giving us a chance [against Saracens]. They were top seeds, they had justified their top four position and we had limped in.
"What we did well were all the givens you need to succeed in knockout rugby - enthusiasm, intensity and playing for a full 80 minutes and we backed it up with an appropriate game plan.
"We proved a few people wrong. We have to do that again."