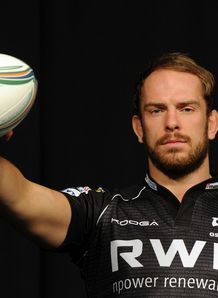 Ospreys lock Alun-Wyn Jones says that Lions captain Sam Warburton will receive plenty of help from Brian O'Driscoll and Paul O'Connell.
Jones was originally touted as a potential captain for the Lions before Warburton received the call, completing an impressive turnaround after struggling earlier in the season.
Highlighting the experience in the red shirt held by O'Driscoll, who led the Lions in 2005, and O'Connell who led the side in 2009, Jones is confident that Warburton will thrive with their help.
"Brian O'Driscoll and Paul O'Connell have got a huge wealth of experience, and not every player will play every game." said Jones to BBC Sport.
"It's going to be tough to ask any player to do that and Sam's just the same.
"I don't think he'd expect to play every game, plus you need that extra ability to use the best out of people around you.
"And I think Sam will be able to do that by employing the likes of Brian O'Driscoll and Paul O'Connell and the experience they've had and the experience of previous Lions tours.
"Knowing Paul O'Connell and guys like that and the professionalism they display when they are captain, they'll just display it by being led by another man.
"Pre-Christmas I had very little expectation of getting back into the squad for the Six Nations, let alone the Lions.
"And there was a bit of trepidation when selection was made. If I were not selected having been there before in '09 I would have realised what I'd be missing."