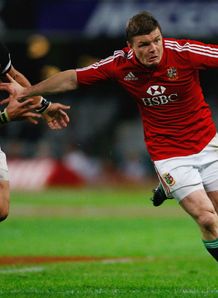 Ireland centre Brian O'Driscoll confessed that he remained uncertain of his involvement with the Lions until the squad announcement.
O'Driscoll became only the third player ever to be selected for four Lions tours following last Tuesday's announcement, following in the footsteps of Willie John McBride and Mike Gibson.
Having known ahead of the last two Lions tours that he would be selected, O'Driscoll admitted that he had doubts about his selection this time round.
"I was very hopeful but there's always an element of doubt because you don't know what a coach is thinking," said O'Driscoll to the Irish Examiner.
"In 2005 I was captain so I knew I was in, and in 2009 I was told by [coach] Ian McGeechan that I wasn't going to be captain so I knew he wasn't going to drop me from 'You're not captain' to 'By the way, you're not in the squad' in separate conversations.
"But this time around there'd been radio silence from Warren Gatland so when you don't hear there's always an element of doubt.
"But the job isn't done, you judge yourself not on being selected but on winning things, and it took me a long time in my career to win anything of great substance.
"I won a couple of triple crowns with Ireland throughout the 2000s then finally won a [Six Nations] Grand Slam and managed to win a couple of Heineken Cups, but it's come later in my career.
"And I'm only too happy that if I have to wait for a fourth tour to be part of a winning Test series team then so be it. It will have been worth the wait."