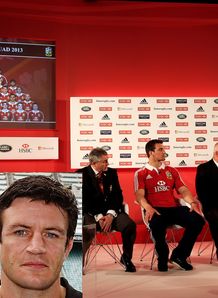 With an exciting British and Irish Lions tour party finally revealed, Planet Rugby's James While caught up with a couple of our Expert Witnesses ahead of the forthcoming tour.
100-Test cap Wales legend Martyn Williams, who won four caps for the Lions, and former England skipper Martin Corry, the most capped Lion in the professional era, will be just two of our panel of experts during the tour.
With a sense of dramatic purpose suited to the legacy of British and Irish Lions Rugby, Andy Irvine, Warren Gatland and his coaches revealed the 37 lucky men chosen to represent the four Home Unions in Australia for 2013.
Some may question the balance of selection, but Williams believes it's pretty much as most expected.
"There are one or two surprises certainly," he observed.
"But all in all it's as most people would have expected, especially after the way Wales finished the Six Nations.
"I'm surprised at the number of Englishmen, but most of the calls are good. Equally I'm delighted to see a stronger Scots representation than I'd originally thought. But Gatland and his team will have done a lot of due diligence on those players and they will have picked the side knowing that the players have to adapt to an open Southern Hemisphere style of game."
Some onlookers are already questioning the wisdom of taking six props but only two fly-halves. Corry believes there still might be a selectorial surprise or two.
"There has to be something going on in the back of Warren Gatland's mind, and with only two outside halves named, I fancy that we may see the return of Jonny Wilkinson post the Barbarian trip," said Corry.
"You can't play eight weeks of intense tour rugby with only two 10s, and by that I mean regular, world class 10s, not shoe-horning the likes of Stuart Hogg into an unfamiliar position."
Williams believes that the prop call was always going to be the case and that six were needed.
"There will be a lot of live contact scrummaging, and front row is one of the key areas that we can exert pressure on the Wallabies," explained the centurion.
"I'm particularly delighted for Matt Stevens, who will contribute hugely on the field, and even more so with his larger than life personality off the field.
"Being away for eight weeks means that the character of the player off the pitch will also be tested. The likes of Matt bring a lot to a touring party.
"Looking at the 10 situation, with regards to the omission of Jonny Wilkinson, Warren said at the start he wanted all of the starting squad to be on the 'plane to Hong Kong', and that rules Wilko out. He threw a spanner in the works over the weekend with a masterful display against Saracens, and, like Cozza, I would not rule him out from joining the tour at a later date.
"With such a long season behind us, there are so many that have been unlucky, and I suspect many 50/50 calls along the way. Just look at some of the back rowers that have stayed behind: Robshaw, Ryan Jones, Wood, Kelly Brown. All are world class players, but the guys selected in front of them, in my opinion, have the ability to play a more Southern Hemisphere style of rugby than those they've discarded at this stage.
"As an example, look at Tom Croft. He's a class act, and he brings something different to the team, with his ability to stay out in the wide channels and carry at pace. Equally, if Croft makes the Test side, it takes a lot of pressure off the locks, as Croft is a true master of the line-out. It's a selection based upon conditions, opposition and possibly gives a clue as to the style of rugby the British and Irish Lions will play."
With two former Lions tour skippers in Brian O'Driscoll and Paul O'Connell alongside him, 24-year-old Sam Warburton will lead this year's tour party. Are both Corry and Williams surprised to see the old guard moved to one side for the younger Warburton?
"Firstly, the Lions skipper MUST be one of the first names on the teamsheet; Sam will be that whether at 6 or 7," explained the Welshman.
"But I think Gatland has been crafty here. Both Brian and Pauly are huge men in presence, character and playing ability. They'll be maybe slightly disappointed deep down, but those are the sort of guys that'll stand up and support Sam through every moment of the tour.
Corry concurs: "O'Driscoll and O'Connell are both two great guys to play with and to tour with," mused the big Lion.
"They'll react well to Warburton, just as both have already proven in the green of Ireland when Heaslip got the captaincy."
"I actually think it will bring the best out of Drico. He laid his own marker down in 2001, and freed of captaincy, I think it enhances all of our options.
"However, in saying that, I am concerned about the lack of a playmaker at 12, especially with two fly-halves who want to stand deep. At the moment, we have a huge backline and I expect a very physical style. But with three route-one centres alongside Brian, I wonder who will bring the power and pace of Bowe and North into the game? That is a big concern.
"It looks predictable and easy to defend against. Going back to the back three, we've selected well there, but we have to use the resource we picked, and I worry that we haven't got the midfield to do that."
Corry, a man who played with equal facility in both the second and back-rows, also was pleased to see Richie Gray touring:
"He's been picked on potential rather than form, and in his case, I'd agree with the gamble. With better players around him and a hard pitch, he could thrive. The other locks are seasoned campaigners and all deserve selection," said Corry.
"In the back-row, there's been some tough calls, and in a way it's a shame the Home Nations have much greater cover at flanker than 8. But Gatland has picked a good blend of skill, and also he's picked for the conditions, which is intelligent."
In closing, both of this week's contributors were quick to stress one general point about Lions tours.
"The tour is what you make it," said Williams.
"Every Lions tour, someone makes a name for themselves from nowhere. If you look at the back-row that played in the last Test in South Africa 2009 no-one would ever have picked that before the series, (for the record it was Worsley, Heaslip, Williams), so it's a case of taking you opportunities.
Corry agrees: "There's an old adage, 'Who plays well plays well early!' You have five games before the first Test, and you don't have time to find or create form. It'll be hugely interesting, but I still believe that Gatland's selection has a twist or two left in it!"
Martyn Williams and Martin Corry were talking to James While. Both will be regulars in our Expert Witness Column during the Test series.