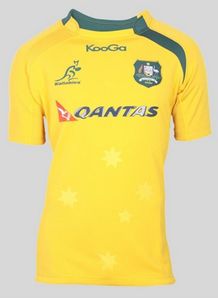 Related links
Also see
The Wallabies have unveiled a new jersey ahead of the highly anticipated British and Irish Lions Tour to Australia.
According to manufacturers KooGa, the jersey is 25 percent lighter than the previous jersey whilst at the same time maintaining the same strength and durability.
While the jersey is still predominantly the gold there is a slight hint of green across the left shoulder while the coat of arms will appear as a 'badge' on the left breast rather than embroidered on to the jersey.
"The new jersey has been developed in conjunction and consultation with leading Wallabies players," said KooGa Australia CEO Tyron Brant.
"We had to ensure that not only was this the most technically advanced jersey in world Rugby, but also that it is functional for the players.
"Ultimately, we had the players comfort and top performance in mind when designing these garments, every little detail has been scrutinised down to the very last stitch."