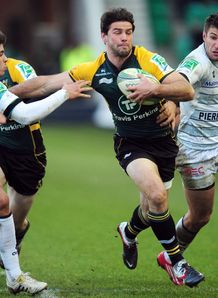 Northampton Saints full-back Ben Foden is eager to prove his worth over the coming weeks ahead of selection for the Lions tour.
Foden's struggles with injury this season saw him miss the November internationals and then be overlooked for England's Six Nations campaign, forcing him to watch on as England crashed to a 30-3 loss against Wales.
Now fully fit, Foden has his sights on challenging for Lions selection and is desperate to impress selectors on the pitch.
"In any big game with anything riding on it and all the hype and ferocity surrounding it, those are the occasions you want to be involved in, especially international rugby because it's a grand stage to be on and big performances can change peoples' perceptions of you," said Foden to the Northampton Herald & Post.
"With Lions tours and England tours coming up, I want to be out there testing myself against some of the best players, but I didn't make selection. I'll go away, work hard at the club and make myself right in terms of my body and then put in some performances to justify my selection.
"I haven't had many injuries or operations during my career and the only one I did I bounced back fairly quickly from, so I was sort of expecting the same thing and probably came back a little bit too early.
"I went full out as soon as they said I could play again. I was doing all of the training, lifting and whatever I could do, but obviously these things need to be monitored and make sure the healing process is completed, and I didn't really do that.
"With the guys here at Northampton, they held me back from certain sessions, kept me off the high ground and did most of my fitness sessions in the gym so when the weekend comes I'm feeling one hundred percent and hopefully can perform to the best of my ability."