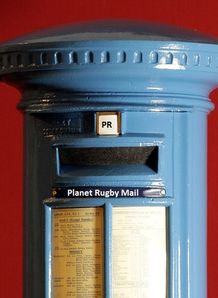 Planet Rugby readers are never short of a voice and our mailbox is seldom empty. This week, a reader gives us his thoughts on the impact the Lions will have on the health of the game in Australia.
Got an opinion? We'd like to hear it, so why not send us an email HERE.
The Lions - Saviours of Australian Rugby?
By Cameron Avery
That's right, you've read the headline correctly and no I am not trying to be facetious.
The Lions are coming and win or lose they could be the saviours of Australian rugby. Such is the current status of rugby in Australia, having languished in the trail of an always powerful AFL (Aussie Rules), a resurgent NRL (Rugby League) and now a rapidly improving A League (Football), the forthcoming Lions tour could not have arrived at more fitting time for Australian rugby.
Week in week out over summer we have seen growing, passionate crowds flock to the A League. It would have been reasonable to think then that we could expect much of the same in Sydney for the Waratahs' first home game of the season. Given the NRL was yet to kick off and the hype surrounding Israel Folau and the Waratahs was significant, I for one had anticipated a big crowd on that Saturday night.
Much to my surprise, I watched as a meager 16,491 people turned up to watch their team. So what does this have to do with the Lions you may ask. Well, the Waratahs are an example of the current interest that rugby in Australia is generating.
With Australian Rugby drifting further and further behind its other major competitors, the Wallabies playing dour rugby, results of recent seasons being average at best and with a lack of the star quality of yesteryear in the current side, the Lions and their travelling army of fans are about to give rugby in Australia the life-saving boost it most certainly needs.
The Lions will provide the excitement and point of difference that is needed to capture the public's imagination again. They will bring the hype that only a world cup or a Lions tour can. The fact they come only once every twelve years ensures a novelty factor which will in turn attract fans who wouldn't ordinarily watch rugby.
Add in the 30,000 or so travelling Lions fans and we have a recipe for what will be a great tour and a big shot in the arm for the ARU. It's going to be big and its going to be exciting.
Beers will be drunk, songs will be sung, stadiums will be overflowing and fans will embrace each other no matter the result.
A tour of enormous magnitude with worldwide viewing numbers at a scale the other major Australian sports can only dream of beckons.
Can the Wallabies do it? Well, I'm predicting a Lions series win 2-1. And before you Australian fans start abusing me for turning my back on the Wallabies, I'm a kiwi, yes that's right from those little islands where the Webb Ellis Cup resides. After 20 or so years of choking jibes and jokes, call that comment a get even.
I will finish by casting your minds back to 2001. A famous and epic 2-1 series win to the Wallabies. Names such as Eales, Kefu, Gregan, Larkham, Herbert, Roff, Burke, Latham graced the team sheet. A team full of Australian greats. How many of the current crop could claim such a status?
Yes, the Lions are coming to Australian shores and win or lose they will save the day.