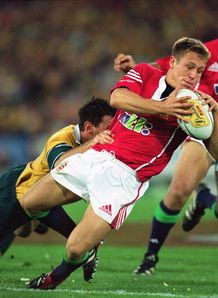 Who are the nailed on fly-halves for the Lions? Jonathan Sexton, sure; Owen Farrell, probably; Dan Biggar, maybe; Jonny Wilkinson, why not?
I'm writing this after seeing Toulon beat Toulouse in a deserved victory that puts them back on top of the French table after briefly falling to second spot.
Before jumping into how Wilkinson fared in the game, I'd just like to cast minds back to July 14, 2001 and Sydney, the day Australia made it 2-1.
A picture has stuck in the mind since that third-Test defeat and that is of Wilkinson sat on the changing room floor distraught after losing the series while his team-mates picked themselves up - after being in a similar state - to go and thank the fans. It was clear Wilkinson was cut deep.
In 2003 he was back Down Under to bury that demon somewhat with a RWC win, which visibly lifted a weight that had hovered over him during his early career. As Lawrence Dallaglio revealed afterwards, Wilkinson seemed under huge pressure throughout the tournament.
Despite the Webb Ellis win, 2001 remains a sore point for many English Lions followers and if Wilkinson's commitment is anything to go by, losing that series is surely stored in his mental locker for fuel. If you haven't guessed, I feel he should be given an outlet 12 years on.
On Saturday in club colours, Wilkinson again showed just what a weapon he could be later this year. Not firing like he would have liked from the tee and with Toulon 19-16 up with ten minutes remaining, Wilkinson switched to the drop-goal, landing two to extend the arrears.
It is such calmness of thought that, surely, is one reason for head coach Warren Gatland to book him a seat on the plane. I mean, only last week in the Six Nations we had England's Owen Farrell eager to pick a fight throughout while Ronan O'Gara became something of a villain when Ireland desperately needed the veteran to be the hero coming off the bench.
There is the notion of picking two fly-halves who will battle it out for the Test jersey (at the moment Sexton and Farrell) with Wilkinson as the third. Why? His off-field presence in the touring party would surely be an asset to all squad members. Should Wilkinson not make the trip, only Ireland's Brian O'Driscoll (of course also selection pending) would have been in Australia 12 years previously. 2001 experience would be a handy tool in the Lions' box.
Of course this will divide opinion but with Gatland revealing in December that Wilkinson "is definitely one we are keeping an eye on", selection is by no means off the table. For now we can only speculate but judging from tonight's intelligent performance, I am sold. Are you?
By Adam Kyriacou
@PlanetRugbyAK