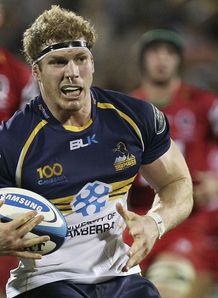 Australia's five Super Rugby sides are set to enter a row with the country's governing body after a possible future tug-of-war over Test players emerged.
International players are expected to be taken out of commitments for their franchises in order to join the Wallabies a full three weeks before the first match against the British and Irish Lions, which is scheduled for June 22 in Brisbane.
"Clearly (Australia coach) Robbie Deans is going to get all the support he needs in terms of getting that group together, ideally three weeks ahead of that first game," confirmed ARU chief Bill Pulver.
"I've got to get back and speak with the various Super Rugby franchises over the next couple of days but we'll be getting an announcement out imminently.
"I'm not sure that we'll get a consensus view - clearly they want to have their players available for every Super Rugby game.
"But my priority is that Robbie has the right preparation in order to make sure we beat the Lions."
An intelligent question was then posed to chief Pulver over whether a franchise fairing strongly in the competition would be allowed to receive special treatment for players.
"That's something that we would review at the time," he explained.
"It's really difficult to predict what the situation is going to be in Super Rugby at that stage so we will assess those on their merits at the time."