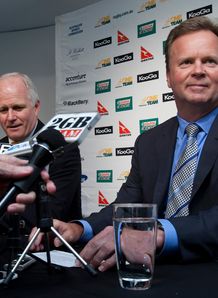 Related links
Also see
The 2013 British & Irish Lions tour is being billed as the most successful ever with fans after organisers said the last tickets for the three Tests were snapped up within 15 minutes.
Four months before a ball is kicked, or before anyone has placed a bet on rugby, the final seats available for the Brisbane (June 22), Melbourne (June 29) and Sydney (July 6) Test matches had been sold out on Monday.
The last time the Lions toured Australia, in 2001, a record 300,000 spectators watched the nine games, but Australian Rugby Union boss Bill Pulver, and bookmakers like Paddy Power, are predicting that figure will be beaten over the same number of tour matches this year.
"Right now, I can almost tell you definitely this will be the most successful Lions tour ever," Pulver told The Australian newspaper on Tuesday.
"This might be a bold move, but it's possible we could sell 400,000 tickets this time around.
"Our allocations for the three Test matches and the Waratahs game (June 15 at Sydney Football Stadium) are completely gone and there is already terrific activity among all the other games.
"Right now this is shaping up to be a phenomenally successful tour in terms of attendance."
The Reds-Lions tie at Brisbane's Suncorp Stadium on June 8 presently is tracking at about 40,000 tickets sold, just 12,000 short of capacity.
The Lions will also play tour games in Perth on June 5, Newcastle on June 11, Canberra on June 18 and Melbourne on June 25.
Australian rugby is counting a financial windfall to help pay for a series of initiatives aired at a board meeting in Sydney on Monday to try to boost the union code down under where Australian rules and Rugby League dominate.
"It's a great thing for the ARU in terms of the revenue that will come from this tour," Pulver said.
"And so it should. This is one of the most iconic teams in the game globally.
"It only happens once every 12 years and clearly this tour resonates beautifully with our rugby community."
The Lions haven't won a series since their 1997 tour of South Africa.