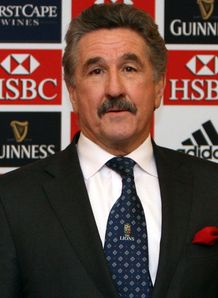 British and Irish Lions committee chairman Gerald Davies has described the reaction to Warren Gatland's comments as "a huge over-reaction."
Gatland caused a surge of news stories after claiming that taking a large number of England players on tour to Australia would add extra "media scrutiny", highlighting the behaviour of the England squad at the 2011 Rugby World Cup.
The Lions boss has since retracted his comments and now Davies has leapt to his defence, describing the story as "sensationalised out of proportion."
"I think there has been a huge over-reaction," said Davies to the Western Mail.
"It has been way over the top. I feel the headlines have hugely exaggerated what he says in the interview.
"It has been sensationalised out of all proportion. That is unfair on Warren, who actually speaks a lot of good common sense. If you read the article, he is very complimentary about England and how well they are doing at the moment.
"What he does emphasis is that when you go on a Lions tour, good behaviour and good manners are very, very important. Personality and character are important. You are sharing a long trip away from home with players from four different nations. It's important to get along well.
"As well as performing on the field, you need to behave in the right way off it. It's important to be a person that gets on with everyone else."
"When people get to know him in person, rather than from what they read in newspapers, they will realise what a really good man he is. The players will be sensible enough to wait for that moment to come along and they will find themselves motivated and inspired by him.
"They will realise that he's a man with his feet firmly on the ground and a practical man with lots of common sense and ambition."