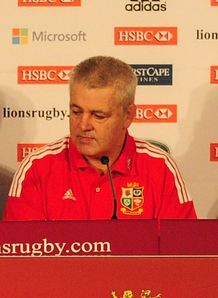 Related links
Also see
British and Irish Lions head coach Warren Gatland has hit back at his "misinterpreted" comments released on Tuesday.
Gatland was quoted by the Evening Standard as saying that taking a large portion of English players may add extra media scrutiny, suggesting a limit to the number that may travel to Australia.
However Gatland has since corrected his previous statement by saying there is no limit to the number of England players that could travel on tour.
"I am extremely disappointed that anybody should try to misinterpret what I said and try to say that will count against English players - that's absolute rubbish," Gatland told the Daily Telegraph.
"The last thing I would ever do is limit the number of English players. There is absolutely no limit to the number of any players from any nation we will pick if they are worthy of a place on the tour.
"I would happily pick 15 English players in the first Test at Brisbane if I thought they were the best 15 players for the job.
"The only consideration for a Lions coach is to get the best 15 on the park to do the job. That's paramount, I'm not remotely bothered which country they come from.
"When I first started at Wales I remember I once picked 13 Ospreys for one of my early Tests in charge."