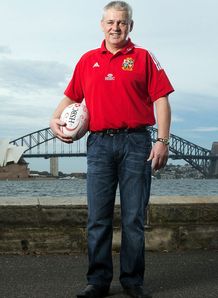 Related links
Also see
British and Irish Lions head coach Warren Gatland has said selecting a large group of English players will bring "other pressures."
England are the only unbeaten side in the Six Nations so far, but Gatland believes that selecting a large group will bring extra scrutiny from the media due to previous disagreements between countries and the events England went through at the Rugby World Cup.
"If they do well in the Six Nations, there will be a reasonable contingent of English players. But that brings a certain element of - how do I say it - other pressures that come with selecting a lot of English players," said Gatland to the Evening Standard.
"It becomes a much greater media focus from the English papers; potentially a negative focus from the Australian papers. And English players are targeted by other countries.
"[They are] not always the most popular with other countries because of the history. People like having a pop at them.
"We all know what happened with England at the World Cup and the circus that was created.
"I've just got to be aware of the possibilities that, if there are a number of English players on the tour, the same sort of things could be instigated, through stings through the media or set-ups trying to create controversy.
"These are young men filled up with a lot of testosterone and sometimes they need to go out and just unwind. But it's essential these players know what their boundaries are.
"The way I work, it's not a dictatorship, it's a consultation with the other coaches and senior players or the captain.
"You might say to players, 'Go out for a couple of hours and have a beer and maybe you're back in the hotel by one o'clock', particularly with night games."