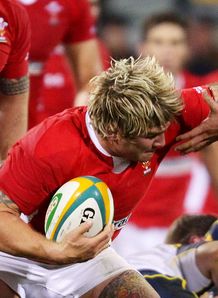 Ospreys coach Jonathan Humphreys has called on Richard Hibbard to be selected by the Lions for the June tour to Australia.
Hibbard will compete with Matthew Rees and Ken Owens for the Wales hooker shirt during the upcoming Six Nations, but Humphreys believes that he has the potential to wear another famous red jersey.
"I think he is the best hooker in Europe," said Humphreys.
"I'm biased but I spend my life looking at opposition, looking at other hookers' strength and weaknesses.
"The kid is 112kg, phenomenally aggressive, outstanding at set piece. What more do you want? The kid can change games. He is very important to us [the Ospreys].
"If it were up to me to pick (for the Lions) - yes he would be there. I thought he was phenomenal on the weekend. Here is a kid who has got a bad shoulder. We had to manage it all week and the first couple of minutes in the game he is smashing into people.
"He's a loyal kid. He wants to play. He wants to do his best. With one shoulder he was phenomenal and I hope he starts for Wales."