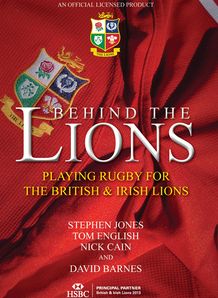 Competition time! We're giving away a handful of copies of the recently-released official history of the British & Irish Lions!
Behind the Lions: Playing Rugby for the British & Irish Lions sees four esteemed rugby writers from each of the Home Nations delve to the heart of what it means to be a Lion, interviewing a vast array of former tourists to uncover the passion, pride and exhilaration experienced when wearing the famous red jersey.
Authors Stephen Jones, Tom English, Nick Cain and David Barnes explore the 125-year tale of heart-break and ecstasy, humour and poignancy that is at once inspirational, moving and utterly compelling.
And it is the only story worth hearing: the players' own. This is the history of the British & Irish Lions - in their own words.
We're giving three lucky readers the 432-page hardback version, but there's also an enhanced eBook available (also available for iPad) that has videos of every tour from 1955 to 2009, a stats and records section and more photos than the print edition.
You can see a video preview for the whole project here .
So how do you win? You'll have to answer the question in Friday's edition of our FREE weekly newsletter, The Crooked Feed.
This week's edition features a calendar of 2013's major rugby events from both hemispheres.
Not a subscriber? Tut-tut! All you have to do is click here and sign up to receive our weekly email.
Good luck!