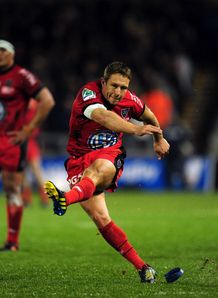 Related links
Also see
Toulon fly-half Jonny Wilkinson admits his future is still uncertain stating he would decide on retirement in February.
The former England captain remains in impressive form in the Top 14 and Heineken Cup with the French club side, and with the Lions tour to Australia in June, Wilkinson is seen as outside contender to make the squad.
Toulon are already looking ahead to next season by opening negotiations with Bath scrum-half Michael Claassens and moving Frederic Michalak to fly-half, with Wilkinson wary that time is running out.
"Rugby is what I do and all that I know," said Wilkinson to The Daily Telegraph.
"The competitive streak in me has never been stronger. I've never been good at matching my natural instincts against my brain because by brain ticks over way too much. I just can't switch my mind off.
"My natural instinct is a strong one and that is to play rugby but I know I've got something to deal with here. I'm muddled and all over the place on it at the moment. I'm having to escape it and I enjoy escaping it and the way I do that is through day-to-day rugby. I know that, ultimately, this will be an individual decision from me but, in truth, it will be based on the team as well. I can't, and won't, take away from them."
"Toulon can't wait until the end of the season. They need to move on with their plans in an informed manner. So I've got to make up my mind by some time next month."