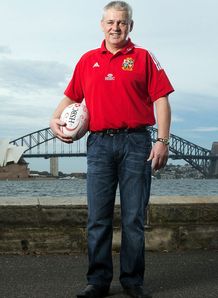 Related links
Also see
Warren Gatland is hoping the Wallabies allow their players to feature in the British and Irish Lions' warm-up games ahead of their three-Test series in June.
The Lions will prepare for the opening Test against the Wallabies in Brisbane on June 22 by taking on four of the five Australian Super Rugby teams and head coach Gatland is keen on getting his troops battle-hardened by facing full-strength sides.
But that requires the cooperation of his Wallabies counterpart Robbie Deans and the Australian Rugby Union in allowing the Wallabies to play for their franchises en masse.
Gatland is in Australia inspecting the facilities his team will be using Down Under and said he believes his team need to be properly tested before facing the Wallabies, that was why they chose to face Super sides rather than run up cricket scores against lesser opponents
During their 2001 tour to Australia the Lions ran in 199 points while conceding just 16 in their opening two matches against weak Western Australia and Queensland Presidents XV teams.
"From the experience that we learnt from four years ago, it's all about preparing for the Test matches so the harder the games are the better prepared we're going to be," Gatland told AAP on Sunday while checking the facilities at AAMI Park where the Lions will play the Melbourne Rebels.
"If Robbie will let as many of the Wallabies play in those warm up games, that will help us prepare.
"We found in South Africa we were undefeated in the warm-up games but, because there wasn't a lot of the South African players playing, we weren't tested as well as we could have been."