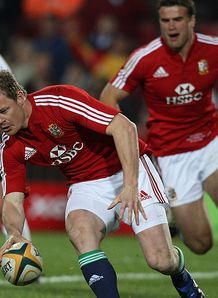 Brian O'Driscoll has admitted that the failure to win the 2001 Lions series in Australia still leaves him frustrated.
The tour confirmed O'Driscoll's status as one of the best players in the British Isles, with the Leinster centre scoring an outstanding try in the first Test victory before the Wallabies recovered to win the remaining two Tests.
"The 2001 tour to Australia would have been a great highlight in my career if the Lions had won the series," said O'Driscoll to The Scotsman.
"That might sound strange because it was a great tour in many ways, but, for me, the more time goes by the less of a career highlight it becomes, and just more of a frustration.
"There are great memories, just from being on my first tour and that first Test in Brisbane will live long in the memory of course. It was fantastic to run out in a stadium in Australia rocking with fans in red. We knew we had a big following, but didn't expect that. And then to score and go on to win the first Test was incredible.
"But, the fact is that we should have won the second Test, and we put ourselves in a position to win it, and let the lead slip with a bad half of rugby. We came close, but just lost that third Test too, so when I reflect on it all I can see is a massive missed opportunity."
O'Driscoll returned from injury against Edinburgh on Friday and another Lions tour looms on the horizon for the 34-year old, with the Ireland captain still hungry to wear the famous red jersey.
"The age I am now I try not to look too far ahead. There is nothing like a Lions tour and it is a huge honour for anyone to be selected, but I think, as is the case with representing your country, once you have had that chance once you are more determined to get another crack.
"I try not to look back, but there is a big part of me that would like to experience the emotions of winning a Test series in this famous red jersey, and if I was asked to be captain again it would be impossible to turn down, even though there are huge stresses that go with it."