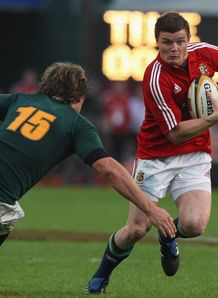 Related links
Also see
Ireland and Leinster centre Brian O'Driscoll is determined to tour with the British & Irish Lions for a fourth time and said it would be impossible to turn down the team's captaincy if he was approached by Warren Gatland.
O'Driscoll captained the Lions on the 2005 tour of New Zealand, where his participation was ended cruelly when he dislocated his shoulder following a 'spear tackle' by Tana Umaga and Keven Mealamu during the first Test.
He was first selected for the Lions tour to Australia in 2001 and participated on his third tour in 2009 when they lost in South Africa.
And because he has never been part of a series-winning team, O'Driscoll wants to finish off his Lions career with a victory.
"It would be impossible to turn down the opportunity if I was asked to be captain again, even though there are huge stresses that go with it," he told the Telegraph.
"It's too great an honour to contemplate saying no, but there are so many names being bandied around at the moment that I genuinely don't take much heed.
"Your captain needs to be starting in the Test team, and it is difficult to say at this stage that there is anyone who is guaranteed to be starting.
"If you said 'you can get on the trip to Australia but you are not going to win the series', I would have no interest in going.
"I have already done three tours. The only reason to go on another Lions trip would be to win the series, to do something that I haven't experienced before.
"I don't want to go on four Lions tours and win none of them. People don't remember losing Lions tours, they only remember winning tours."
The 33-year-old did not captain the 2009 Lions and admitted that there is a big difference between leading the squad and being an ordinary player on a tour.
"Having been captain on a tour, then toured when I'm not captain, I can tell you it is very different," O'Driscoll said.
"There is a lot of pressure as the Lions skipper. It was a lot more relaxing just being another player in South Africa, I was able to enjoy it and there was less scrutiny than there had been in New Zealand.
"Paul (O'Connell) did a good job in 2009, but we fell short as a team.
"Whoever does the job this time has to use the leadership group around him.
"There will be some guys who have been on previous tours and it is important to get them working for the captain.
"The key is that there is a tight-knit squad with a common goal, whatever the individual highs and lows along the way."