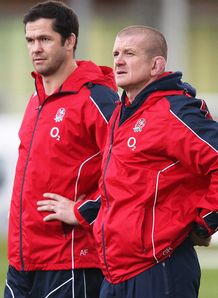 British and Irish Lions boss Warren Gatland has been given the green light to approach England coaches Graham Rowntree and Andy Farrell to join his management team.
Rowntree has long been expected to be part of the 2013 tour to Australia having worked alongside Gatland as part of Ian McGeechan's coaching team on the 2009 tour of South Africa.
Gatland revealed last week that Farrell is also a candidate for the role after hearing good reports of impact he made with the England set up.
"People have spoken highly about Andy and he is on a list of guys that I need to finalise and do my homework on," Gatland told the Daily Telegraph.
"I am talking to different people to make sure the make-up is right.
"He would be one of the guys on the list but I don't think at the moment there has been any agreement between the unions and the Lions."
RFU chief executive Ian Ritchie has confirmed that England would be willing to make alternative arrangements for their tour of Argentina next June to accomodate any invitations from the Lions.
The Lions management team is expected to be announced early in December.
"Our view is that it is still an honour to be asked to be involved with the Lions, we would regard it as such," said Ritchie.
"We want to support the Lions, we are one of the shareholders in the Lions, so why wouldn't we?
"Of course it has some difficulties in terms of the summer tour in Argentina but we would deal with that, depending on who it is and how we address it.
"You have to see it as an opportunity. Not only is it an honour but you would believe they would learn a lot in those situations and it gives us an opportunity to broaden our horizons.
"I don't see it as a negative. I see it very much as a positive."