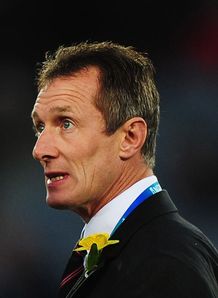 The Welsh Rugby Union has confirmed that Rob Howley will continue as caretaker coach after Warren Gatland was appointed as the British and Irish Lions' new coach.
Gatland will take charge of Wales' matches with New Zealand on November 24 and Australia on December 1 before returning to Lions duty.
This means that Howley will be in charge of matches against Samoa and Argentina and the entire 2013 Six Nations campaign.
Howley first took up his caretaker coaching role during the June internationals against the Barbarians in Cardiff and the three Test tour of Australia later that month after Gatland suffered two broken ankles after a fall back home in New Zealand.
Howley admitted that he is honoured to continue in the caretaker role.
"It is an honour and a privilege to have been asked to continue as head coach of Wales in my caretaker role for this extended period.
"I am also delighted for Warren who thoroughly deserves to have been selected to coach the British and Irish Lions on their 2013 tour.
"I thoroughly enjoyed my experience of heading up the coaching team over the summer and now I am looking forward to building on that during the months ahead.
"Work is already well advanced in preparation for the Autumn and I know we have some great games to look forward to against some of the toughest opposition in the world game.
"I want to thank the Welsh Rugby Union for offering me this opportunity and I look forward to the challenges that lie ahead."
WRU chief executive Roger Lewis said the decision allow Gatland to coach the Lions and to continue with Howley as caretaker coach shows that they back their current coaching structures.
"The Welsh Rugby Union is proud to support the British and Irish Lions and recognises the importance of contributing our playing and coaching talent to the cause," he said.
"We have a proud history of helping the Lions through the secondment of key staff and this will continue to be our stance whenever possible.
"Warren Gatland has proved his credentials by coaching Wales to Grand Slam victories in two tournaments and I am certain he will now give his all to the Lions as head coach.
"It is a great reflection on his ability and a true recognition of the strength of Welsh rugby in this modern era.
"He will be released from Wales duty for a substantial portion of the rugby year ahead, but it is testimony to the backroom team he has helped put in place and nurture that we can agree to his secondment.
"Wales now operates to a tried and tested formula and in preparation and delivery on the field of play and the coaches and players know exactly what is expected of them.
"We are also extremely proud to have an individual of Rob Howley's ability in place to pick up the baton and coach Wales in Warren's absence.
"Rob will be in charge for two important autumn internationals and for the first time will take control of an entire Six Nations tournament.
"This is a great opportunity for him and the rest of the backroom team to develop their individual and collective skills.
"After the Lions tour we will benefit from having a vastly more experienced coaching team in place as we look forward in earnest to the next Rugby World Cup in 2015.
"Rob has already proved his ability as a coach I am certain he will continue to develop his range of expertise and management capabilities in this extended period in charge.
"The Australia tour this summer proved to be an important learning curve for him and now he has the opportunity to gain even more experience as the number one coach."