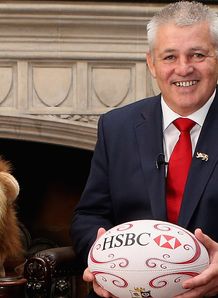 Warren Gatland has revealed that his British and Irish Lions squad could exclude players who are at Top 14 clubs due to a potential fixture clash.
The Lions 2013 tour to Australia kick off against the the Barbarians on June 1 which is the same day that the Top 14 Final will be played.
Several potential Lions players are regulars at their Top 14 sides and Gatland is on his way to France to try and find a solution to the problem.
Wales stars James Hook and Luke Charteris are at Perpignan, Bayonne have scrum-half Mike Phillips in their squad while Toulon, who reached last year's Top 14 Final have several potential Lions players like Jonny Wilkinson, Andrew Sheridan, the Armitage brothers and Gethin Jenkins on their books while Lee Byrne is in Clermont.
"I'm actually going down to France tomorrow to talk to some players who are down there and watch Perpignan and Bayonne," said Gatland.
"So it's a chance to meet with some of the coaches down there and talk about potential release of those players for the Lions.
"But ultimately it may be up to the players. If you remember back to 2009 Nathan Hines left Perpignan before a final because the Lions meant so much to him as a player.
"He got on a plane and said 'bugger playing in a French club final, I want to be part of the Lions tour'.
"It's something that as a management board and as a coaching staff we are going to have to discuss because the preparation is so tight.
"And if it means that some players aren't available to get on the plane then that may potentially rule them out."
Gatland said he hopes finalise the appointment of his assistant coaches soon and revealed that although he will continue with the Lions tradition of playing attacking rugby, he warned that he could change their style of play if it was needed.
"We want to continue with some of the great rugby that we demonstrated in South Africa," said the 48-year-old, who was Ian McGeechan's assistant in 2009.
"We outscored the South Africans in try count in the Test series so you can expect for us to play an open and exciting brand of rugby, tempered with winning rugby.
"That is important. If it means that in the last Test, and things are tied up, we have to play a little bit ugly to win the series I am prepared to do that.
"But ultimately we want to go out there and excite the fans that come to watch us play because we are going to play a brand that is entertaining and hopefully a winning brand as well."