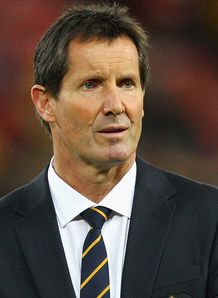 Related links
Also see
Wallabies coach Robbie Deans wants Australian teams to take a five-week mid-season break next year to prepare players for the Test series against the British and Irish Lions.
Deans believes that any shorter break during the Super Rugby tournament will be "a recipe for disaster."
Australia Rugby Union chief executive John O'Neill said his organisation had already begun negotiations with its New Zealand and South African counterparts in the hope of expanding the mid-season break from three weeks to five to accommodate the Lions series.
Deans said "anything short of that is negligence."
Super Rugby was halted for three weeks this season, for the first time in its history, to allow Australia, New Zealand and South Africa to play June test matches.
Australia was forced to cram in a Test against Scotland on a Tuesday so as to fit a three-Test series against Wales into the three available weekends.
Scotland beat Australia 9-6 - their first win in Australia in 30 years - and Deans said the Wallabies could not afford to reproduce such a packed program against the Lions.
"That would obviously be a recipe for disaster," said Deans.
"The Lions series is an important moment in every rugby player's life, once in every 12 years they get this opportunity.
"We need to do the right thing by the playing group and ensure that they get the preparation that's required to win.
"Anything short of that is negligence."
The Lions will play nine matches in Australia in June and July next year, including matches against all five Australian Super Rugby teams.
O'Neill said he expects the southern hemisphere rugby group SANZAR to decide within two weeks how long next season's Test break will be.
He said it was possible Australian teams might return to the Super Rugby tournament later than their New Zealand and South African rivals.
"The window here in Australia needs to be wider that it necessarily will be for South Africa and New Zealand because we have the Lions arriving early June and they are here till early July," said O'Neill.
"We need a five-week window."