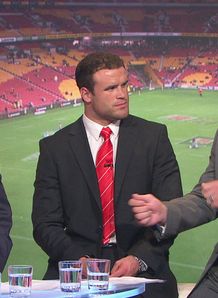 Related links
Also see
Wales and Cardiff Blues inside centre Jamie Roberts has revealed that he is looking to make his playing comeback ahead of the November Tests.
The powerful midfield player, who is recovering from knee surgery following an injury he suffered in March playing for his region, is key for Wales.
But with rehabilitation ongoing, Roberts has spoken of his target return month, with Wales opening up against Argentina on November 10.
"That is the target but you never know with these injuries - it could be sooner or later," Roberts told BBC Sport.
"I have been working hard with the rehab, so it's fingers crossed. I have done 11 weeks rehab now and I am probably another 12 to 13 weeks to go. It all depends about what happens when I start running, which will be in two weeks."
Robert missed Wales' recent 3-0 whitewash to the Wallabies in June, but will be eyeing a return Down Under with the British & Irish Lions.
"It has been hard watching, it has been heartbreaking especially when they have come that close," Roberts said.
"I think they deserved a win and that's what makes it so hard. The boys have played well and people have put in some really good performances. Go back a while and nobody would have given us hope of going within a point of Australia away from home.
"The fact we were so close is really encouraging and at the same time frustrating. I'm sure the guys will be gutted about not taking a scalp out there but it shows the improvement. It's just about the final step and hopefully we can do that in the autumn."