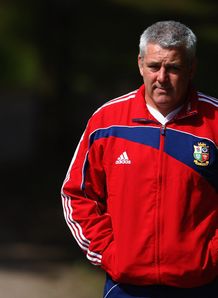 Warren Gatland's impending appointment as British and Irish Lions coach could affect Wales' 2015 World Cup campaign negatively.
That is the word from former England boss Sir Clive Woodward, who said although he believes Gatland is the right man to coach the Lions on next year's tour to Australia, it could have serious repurcussions for the current Six Nations champions.
"Whoever coaches the Lions, and I think it should be Warren, has to be really careful," Woodward told the BBC.
Gatland, who was Ian McGeechan's assistant on the 2009 Lions tour to South Africa, is favoured to take over the reins of the 2013 outfit and is already negotiating with the Welsh Rugby Union (WRU) about taking a break from his job as Wales' coach next season.
Woodward - who guided England to World Cup glory in 2003 and who was at the helm when the Lions suffered a 3-0 series whitewash against New Zealand in 2005 - said if Gatland accepts the Lions role, it will be difficult to keep all of Wales' players happy ahead of the 2015 World Cup in England.
"Wales have an outstanding team and, I think, they could go all the way in 2015, and you don't want anything to get in the way of that," explained Woodward.
"He has to manage that process and almost has to get the Welsh team to really want him to do the Lions.
"They have to understand that stuff is going to happen on a Lions trip that can go wrong and that means your mojo isn't intact," he added.
But despite these reservations Woodward is unevoquial in his support for Gatland to coach the Lions next year.
"I would say Warren is definitely the right man out of all the home nations candidates," he said.
"He is the stand out candidate, but doing the Lions is not easy and there is no doubt it could affect your home team.
"You have to manage the Lions; you're not picking Welsh players and have to get on with players you normally go to war with.
"You are not there to be popular and you have to make the tough calls."