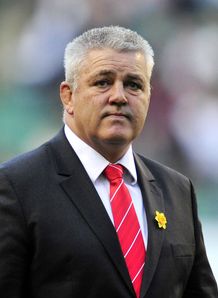 Wales international Gethin Jenkins has backed Warren Gatland to lead the British and Irish Lions in Australia next year.
Lions chiefs are set to reveal the head coach's identity next month after the dust has settled on this season's Six Nations Championship.
Wales will win the title and Grand Slam if they beat France on Saturday, which would be the second time for New Zealander Gatland to achieve such a feat following his debut season success in 2008.
The 48-year-old was also a key member of Sir Ian McGeechan's coaching team in South Africa three years ago, when the Lions and Springboks staged an unforgettable Test series that the tourists ultimately lost 2-1.
"I think it would be great if he gets it (Lions job)," Jenkins said.
"He did a great job on the last tour. He is a great coach and he has got the credentials for it.
"It was pretty old school on the last tour. We had some good enjoyment, but it was very serious at the same time."