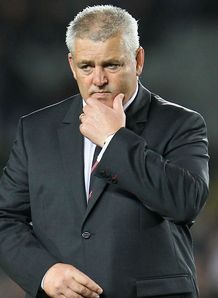 Wales coach Warren Gatland would love to be involved with the British and Irish Lions in 2013 but he will only accept a role if the Welsh Rugby Union approves.
Gatland was part of Sir Ian McGeechan's coaching team for the 2007 Tour to South Africa and the New Zealander has been mentioned as a candidate for the head coach's role for next year's tour to Australia.
Lions manager Andy Irvine is hopeful of naming a coach in either April or May and hinted that all possibles would be investigated, including appointing a foreign coach.
But Gatland to be appointed to that role he would have to consider his position with the WRU.
He admits that it could go against him. However, he would welcome the chance to be involved in some capacity, providing the WRU agree.
"I would love to be involved with the Lions again if the opportunity came up," Gatland told Wales Online.
"South Africa was a wonderful rugby experience like no other. We went back to basics with an old-fashioned philosophy in a professional manner. It was a privilege to work with coaches and players from other nations and you learn so much.
"If I was involved in the same role as I did in South Africa under Ian McGeechan, there would not be a problem because someone else is head coach and in charge.
"One of the things the Lions would want from a head coach would be that person available for a certain period of time. That would mean the coach was not available for the 2013 Six Nations.
"It is not just about watching the internationals because you would have to keep in touch with the club games and it is a big job.
"Whether I could do that I am not sure and you would have to speak to Roger Lewis. That would all depend on what was happening with Wales and that role is always going to be my main priority.
"But there is still a lot of rugby to be played before any of these decisions are made," he added.