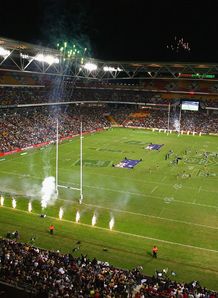 Related links
Also see
Queensland rugby fans have been rewarded for their loyalty with a deal that guarantees major Test matches will be played in the state for the next decade.
On Saturday the Australian Rugby Union and the Queensland government unveiled a 10-year deal that ensures that Bledisloe Cup Tests will be staged in Brisbane every time Australia - on an annual rotation with New Zealand - host three games in the showpiece trans-Tasman series.
The Springboks will play in Brisbane as part of the expanded Tri-Nations series in the years when the All Blacks do not.
One of the three Tests against the British and Irish Lions in 2013 will also played in Brisbane with the full itinerary for the tour expected to be confirmed later this month, the ARU said.
Brisbane will also host the opening Test when the major European nations tour Australia each June, starting with Wales next year.
ARU boss John O'Niell said Queensland deserved the opportunity on a regular basis after consistently showing their support for the Reds this season.
"When you look at the Super Rugby Final being sold out and the prospect that the Bledisloe Cup Test in Brisbane on August 27 will follow suit when tickets go on sale on July 19, the Queensland sporting public has stepped up to the plate to support our game," said O'Neill
"Queensland is an undeniable heartland of Rugby and to that extent we also think the time is right to take Test Rugby to the Gold Coast."
The Gold Coast will host a Wallabies Test for the first time when Argentina comes to Skilled Stadium next year as part of the expanded Tri-Nations series.
"Gold Coast has a wonderful stadium and a sporting audience prepared to turn out for major events," said O'Neill.
"We consider taking a Test in the expanded Tri Nations series to the Gold Coast next year to fit that criteria perfectly."
The Australian leg of the IRB Sevens World Series has already been relocated to the Gold Coast from Adelaide and it will get its first hosting on November 26-27 this year.