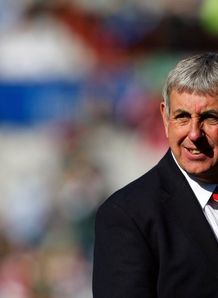 Related links
Also see
Lions legend Ian McGeechan has called on the home unions to start looking towards the 2013 tour now to give the famous tourists the best chance of success.
McGeechan may have already ruled out leading the trip to Australia in four years time - however does not mean the former Scotland, Northampton and Wasps boss has ended his involvement with the Lions.
Lions Chief Executive John Feehan has spoken to McGeechan about playing a key role in the planning of the trip - and as a seven-time tourist (twice as a player, then five more times in a coaching capacity) few are better placed to know what makes a successful tour.
Although the role has yet to be confirmed, the 62-year-old has confessed he is keen to play his part once again - with McGeechan already pin-pointing what needs to be done to help maintain the success of the Lions on and off the pitch.
And McGeechan firmly believes that the home unions need to work on ensuring that the domestic seasons end in plenty of time, while the Lions work with Australian Rugby Union to get the right balance for the matches.
"I think they will have to restructure future Lions tours. I am not talking about great changes. Lions tours now are always going to be about seven weeks, so that has got to be planned pretty carefully as that timescale is a challenge in its own right," McGeechan said, speaking to skysports.com
"If you can get that right then you are giving whoever is coaching the players at least a fighting chance. That is where the hone unions have to make sure that in a Lions season, just like a World Cup season, that there is enough restructuring to allow the Lions an extra week. Realistically you can ask for any more but at least the players get a chance to get a week to relax, with everything finished before the Lions.
"People know now 2013 is happening, so there is no reason why they can't be planning that season, like they plan a World Cup season, so the finals and everything are done the week before the Lions come together. That is the week I am talking about, just having that seven days extra for the players to relax."
Should McGeechan extend his Lions involvement to an eighth tour of duty, his role is likely to see him working to ensure that the right planning is put in place on the rugby side.
And that is a challenge McGeechan admits would suit him.
He said: "John Feehan has just asked if I would have some involvement on the rugby side of things. If that materialises, I would be delighted because what we will try to do is plan the rugby part of itinerary so that it is balanced for the players and coaches rather than being dictated by Australia.
"You have all the commercial and other stuff that comes on the back of the tour which is always well organised but the rugby is often left to the host union like Australia to sort out and the Lions just accept it. I think that is where there needs to be an openness and integration of thinking and ideas to pull the whole thing together.
"It is a case of looking at the sort of opposition Australia can put out and then you tie that in with the travelling. The one thing with Australia is that it is not like South Africa where you have altitude along with travelling. You have some fairly big distances to travel and generally what they like to do is to keep you moving around before the Tests.
"It is little things like that where you need to get the right balance.
"I haven't had any conversations with the Australians or that yet, I have only been approached by the Lions. I am hoping that it materialises as I am looking forward to making it as balanced a tour as possible because the Lions need that and the Australians must see that the Lions need that. It is not in anyone's interest for the Lions not to be competitive."
IAN McGEECHAN: LION MAN
Ian McGeechan's autobiography, giving a unique insight into his life with the Lions, is published by Simon & Schuster and priced at £18.99.