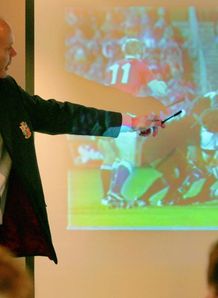 It's just over four years since the British and Irish public saw the tackle that left Lions captain Brian O'Driscoll out of the NZ tour.
Video nasties played by press doctor Alastair Campbell after the match showed the tackle, perpetrated by Tana Umaga and Keven Mealamu, in which BOD was turned in the air and dropped on his shoulder, which dislocated as it hit the ground.
It was a moment labelled by one journalist as one of the fifty ugliest moments in sporting history.
The fall-out, in part genuine and in part spun up by the Lions management and Campbell in particular, included the fact that Umaga - O'Driscoll's captaincy counterpart for the series - had not called to check on O'Driscoll's well-being after the game.
The two have never met on or off the field since, nor have they spoken particularly about the incident until this past weekend at Nice's rugby ground, where Umaga had been invited by a friend to watch Leinster train.
The two shook hands and talked rugby for a while, then O'Driscoll headed back to the squad.
"I had no idea Brian was going to be there," said Umaga to The Independent.
"When we got down there, my friend said 'I've got someone for you to meet'.
"I was a bit reluctant because I saw the Leinster boys there and didn't want to be a nuisance.
"But when I got there, Brian came up and we just started chatting. It was good to catch up; we literally hadn't seen each other anywhere around the world since that first Test."
There was not a single word exchanged about the events of 2005, which is as it should be. Despite the dubiousness of the tackle itself, as Umaga said at the time when refusing to publicly apologise: "these things happen in rugby."
"It wasn't uncomfortable chatting with Brian at all," continued Umaga this time.
"It was good to have a chat about how things are going for both of us. We didn't mention 2005 and the Lions tour, it was a long, long time ago."
"There was no mention of (the tackle). We just chatted about rugby and our lives.
"These things happen in rugby and they affect you at the time. But it's not the last thing that happens in your career, you move on."