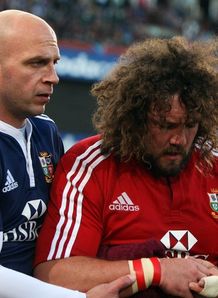 Related links
Also see
If there's one player whose actions have become the unwitting centre of a storm recently, it's South African lock Bakkies Botha.
Botha's charging cleanout of Welsh prop Adam Jones at a ruck during the second B&I Lions Test sparked all the storm. The hit dislocated Jones' shoulder, leaving him out of the game for six months and leaving the Lions propless at a crucial time of the match.
Botha was subsequently banned for two matches for the charge, which outraged the South Africans so much that they wore white armbands with the word 'justice' on them for the third Test, invoking in turn the wrath of the IRB who are still considering what disciplinary action to take.
Fans and observers the world over have been divided over the cleanout's legality, with sme saying that Botha was entitled to do what he did, others pointing out that it would not be the first time Botha had charged headfirst and armless into a ruck.
It has now emerged that a key member of the former camp is none other than the hit victim Jones himself, who is convinced Botha did nothing wrong.
"It was just one of those things that happens in rugby," said Jones to the Western Mail, speaking for the first time about the incident at the Ospreys' new kit launch on Thursday.
"Botha shouldn't have been banned for it, nowhere near it.
"I don't have any complaints. He just cleared me out of the ruck and I got caught.
"Everyone counter-rucks nowadays and, if anything, I was in the wrong place. He just hit me and I was unlucky.
"So I was surprised to see he got banned. I know we didn't cite him so I don't know why the independent commissioner did.
"It was just a fair ruck from a hard player. When I have met him before he seems like a tidy enough bloke so I'm not seeing it as anything malicious.
"I haven't heard from him since, though. But, then again, I was already on my way to hospital when the game finished."
Either way, the hit ended Jones' Lions tour, a far harder thing to take than the injury lay-off. Jones was not even able to hang around and watch the third Test as he had to head home for treatment a couple of days later - sharing his flight with Brian O'Driscoll.
The quietly-spoken Welshman, who lists the tour as 'the best thing I've ever done', said that not being able to stay until the end was his one regret of the whole experience.
"I was absolutely devastated with the way it all ended," he said.
"I really wanted to stay out for the duration and watch the final Test, but I had to come home for scans and stuff so that was really gutting.
"It was really tough for me. I found out on the Monday night that I had to come home and it was hard to take.
"Brian had to come home on the same flight as well. So we had two days of pretty hard drinking after that.
"The flight home was a bit of a strange experience. We didn't talk about rugby at all and it was nice to spend some time getting to know him better because he is a really nice bloke.
"But it was a great summer and I really enjoyed the tour. It was better than I thought it would be and I definitely want to do it again in four years.
"It really helped that the squad was really tight and everything was well organised. To be fair, it was the best thing I've ever done.
"I was delighted with the way I played and put down a marker. It was obviously disappointing not to start the first Test, but, when I got my chance, luckily I was able to do quite well with it.
"The injury was naturally a big blow, but it was a good tour all round. I've had far worse things happen to me in the past and, at the end of the day, I now have two Lions caps to my name so I have to pleased with that."